Unlocking the Code of the Supernatural & 30 Prayers for Divine Protection (Book, 3-CD/Audio Set & Booklet) by Dr. Kynan Bridges; Code: 9762
Unlocking the Code of the Supernatural & 30 Prayers for Divine Protection (Book, 3-CD/Audio Set & Booklet) by Dr. Kynan Bridges; Code: 9762
You are in fact a new creation right down to your DNA.
Kynan's best teaching yet! —Sid
Dr. Kynan Bridges says you are 100% a mystery. Jesus lives in you out of a radical transformation of your spiritual DNA. This Breath of Life transformation changes everything, especially your identity. Are you living it? If not, you need to inhale Kynan's new book and 3-CD/audio teaching, Unlocking the Code of the Supernatural.
Kynan says you have access, your very own personal code, which is the Word of God. In it we vibrate with every fiber of our newness in God.
It is the truth of God's identity that gives your new identity power—no matter what challenges come your way! It is God's power to help you:
• Progressively renew your mind
• Live beyond your limited abilities through the Holy Spirit
• Operate from your New Creation identity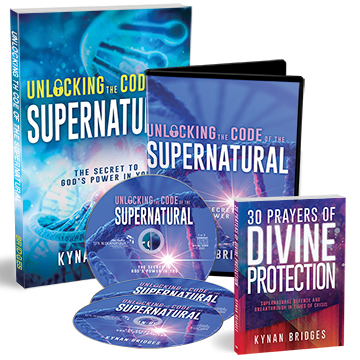 Kynan helps you walk in self-awareness and intimacy with your indwelling God, Who hovers over you to perform His Word in your life.
Unlocking the Code of the Supernatural comes with Kynan's powerful prayer set, 30 Prayers for Divine Protection. You CAN walk in God's supernatural.
Kynan Bridges is a pastor and gifted teacher with a passion for seeing God's people walk in the fullness of divine health and provision according to the Word of God. He is senior pastor of Grace & Peace Global Fellowship in Tampa, Florida.
---