The Science of Deliverance (Digital Download) by Jareb and Petra Nott; Code: 9760D
The Science of Deliverance (Digital Download) by Jareb and Petra Nott; Code: 9760D
Receive Your Healing from the Inside Out!
Jareb and Petra Nott minister the full spectrum of deliverance. Having prayed for countless people to receive inner healing and deliverance, they have witnessed that physical health is the inevitable result of spiritual freedom.
 
But surprise. They never expected modern science to become their consistent ally!
In their new book and 4-part audio series, The Science of Deliverance, Jareb and Petra teach out of powerful Bible truths that rejection, fear and other emotional strongholds are closely linked to physical issues.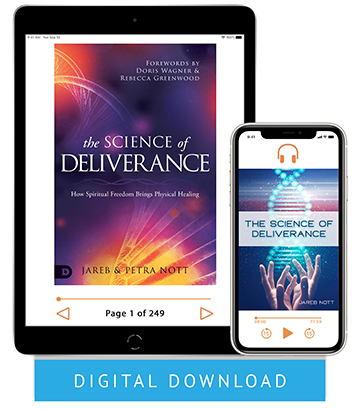 They teach the full spectrum of what deliverance is—both freedom and healing, for everything from phobias and anxieties to DNA markers. And they give you biblical, step-by-step instructions on how to:
Identify the source of emotional and physical issues

Renew your mind and forgive those who have hurt you

Address memories stored in your body

Reset your DNA to bring healing
Jesus called it the children's bread. If that's you, raise your hands!
This offer include prayer cards for cleansing your bloodline and DNA, for yourself and for others.
Jareb and Petra Nott are co-founders of Engage Deliverance & Training. They have ministered and taught deliverance for over a decade including as leaders at Christian Harvest Training Center, an apostolic center founded by Becca and Greg Greenwood. They live in Colorado Springs, CO.
---