Zeitgeist 2025 (Digital Download) by Tom Horn; Code: 3732D
Zeitgeist 2025 (Digital Download) by Tom Horn; Code: 3732D
Are the Freemasons taking down our nation?
Before and after the presidency of Donald Trump, the United States was―and now is again―on an intentional trajectory to fulfill what famous Freemason Manly P. Hall described as The Secret Destiny of America.
Hall's book includes future national and global subservience to the god of Freemasonry, a deity most Americans would not imagine when reciting the pledge of allegiance to "one nation under God."
Unknown to most Americans and certainly many Christians is the fact the Great Seal of the United States is a prophecy, hidden in plain sight by the Founding Fathers. For more than 200 years it has foretold the return of a terrifying, demonic god who seizes control of Earth in the New Order of the Ages.
This supernatural entity was known and feared in ancient times by different names: Apollo, Osiris, and even farther back as Nimrod, whom Masons consider to be the father of their institution.
Does ancient prophecy indicate he will return in 2025?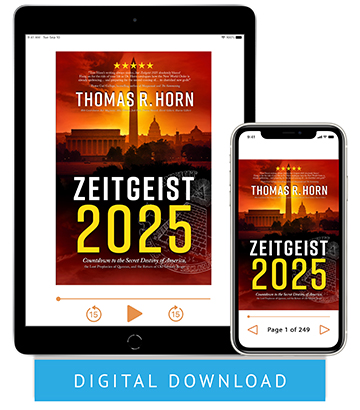 Now, for the first time ever, you will learn in Zeitgeist 2025…
• Hidden secrets and forgotten prophecies surrounding the year 2025
• How the current U.S. government is tied to America's occult destiny
• Lost prophecies from Qumran forecasting 2025 as the final age of man
• Why historians and intelligence agencies foresee a totalitarian world government by 2025
• How America's Capital city is laid out to actuate arrival of the Antichrist
• About the malevolent, Orwellian trinity now converging
• How the population's thinking and speaking are being homogenized into a nation of assimilated devotees who will embrace the Antichrist
• The deep, esoteric meanings that names and titles held in ancient societies, the impact they had upon destiny, and what that could mean for America's near future
• Who the mysterious character Melchizedek of Genesis 14 truly was
• What the "People of the Name" covenant is
Zeitgeist 2025 is 376 pages.
Thomas Horn is an internationally recognized lecturer, radio host and author whose works have been referred to by writers of the L. A. Times Syndicate, MSNBC, Christianity Today, The Washington Times and CBN.
---