Encountering Heaven & The Hell Conspiracy (2 Books & 3-CD/Audio Series) by Laurie Ditto; Code: 9750
Encountering Heaven & The Hell Conspiracy (2 Books & 3-CD/Audio Series) by Laurie Ditto; Code: 9750
Laurie Ditto agrees: the light of eternity changes everything!
Laurie Ditto's visions were meant as a wake-up call for us all! It started with Laurie's unplanned but vibrant glimpses of Heaven. They put her life in sudden focus.
Then God had something more for Laurie, a round trip journey to Hell and back. In Hell Conspiracy, Laurie's assignment is to tell you what you don't want to hear — she saw relatives and believers in torment. But it didn't stop there. Jesus continued to show Laurie about Heaven—well beyond harps and pearly gates.
Fifteen visions later, Laurie has realized Heaven has many lessons, always calling you into the depths of God. Laurie's latest book and 3-CD/audio series, Encountering Heaven, shares lessons from her 15 visions. So prepare yourself. You are about to: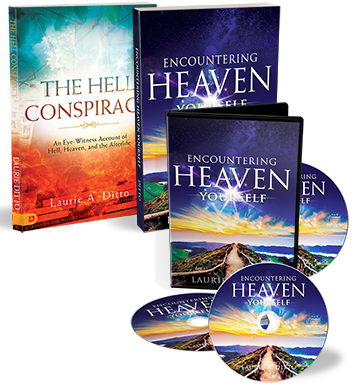 • Put down earthly thinking
• Put on your heavenly identity
• Learn immediate obedience to Jesus
• Find focus for your God-given purpose
• Learn about one of Laurie's favorite mysteries, the "Bridal March"
• Learn how to believe for the impossible
Laurie Ditto's visions of Heaven and Hell will get you focused!
Laurie A. Ditto travels around the world sharing her testimonies of Heaven and Hell to reach people for Jesus. As Director of My Father's Reputation, she trains people in the prophetic to hear Jesus for others. Laurie and Mike have been married for 35 years. They have two daughters and eleven grandchildren.
---