The Seven Spirits of God & Partnering with the Seven Spirits of God (Book & 3-CD/Audio Series) by Brian Guerin; Code: 9811
The Seven Spirits of God & Partnering with the Seven Spirits of God (Book & 3-CD/Audio Series) by Brian Guerin; Code: 9811
Why Jesus' baptism matters to you today.
To most, the Seven Spirits of God is a topic shrouded in mystery. Yet with clear language Brian Guerin brings much needed understanding to the subject.
Brian says that if Jesus walked in them, they also belong to you. But you must take hold of what is yours! In Brian's book, The Seven Spirits of God, you will understand what "well done, good and faithful servant" means today as you:
• Uncover the Seven Spirits and their unshakable purposes today
• Unlock keys to partnering with the Spirit in the last days
• Discover the ongoing relevance of the Menorah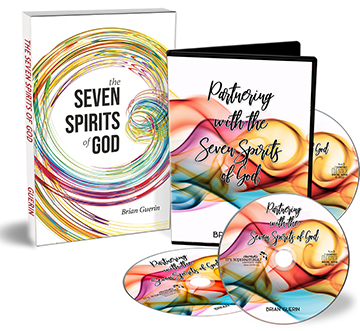 The Seven Spirits are available to ALL the people of God—we need them. When darkness abounds, light also abounds…but always and ONLY through the Seven Spirits of God and you.
Brian's 3-CD/audio series, Partnering with the Seven Spirits of God, helps you understand the Spirit of the Fear of the Lord and the roles of Wisdom, Knowledge and Understanding for the End Times. As we press in, it is the Spirit that supplies everything we need to know and say.
Soon everything that can be shaken will be shaken, but the Seven Spirits of God in you cannot be moved!
Brian Guerin is the founding president of Bridal Glory International and senior leader of Ascend Church, Atlanta, GA. He is known for his teachings on hearing the voice of God. Brian is a key-note speaker and author, and he has appeared on TBN and God_TV.
---