The Miracle of the Oil Package (2 Books & Music CD/Audio) by Joshua Mills; Code: 9868
The Miracle of the Oil Package (2 Books & Music CD/Audio) by Joshua Mills; Code: 9868
The recipe of ingredients that God gave to Moses reveals God's intentions for you today.
The miraculous power of God's anointing—represented by oil—was intended to flow through every believer. Joshua Mills' new book, The Miracle of the Oil, helps you learn about each ingredient and what it prophetically signifies in your life. Precious ingredients include:
• Liquid myrrh • Sweet-scented cinnamon • Fragrant cane • Cassia • Olive oil
When God first instructed Moses, intimacy, healing, unity, purity and wisdom were some of the ancient truths in view. But their spiritual potentials are nothing less than impartations of God's unlimited power for NOW. In The Miracle of the Oil, Joshua intentionally invites God overflow into your life, assuming you are willing!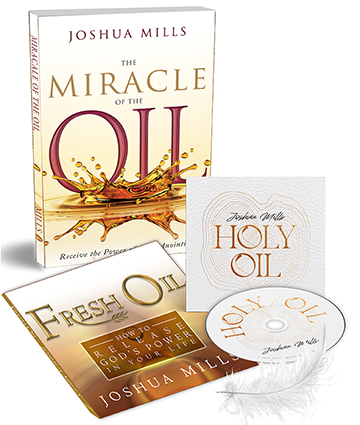 Joshua also encourages declarations and time set aside for personal worship.
Fresh Oil is a book of declarations and prayer. As you speak Joshua's selected scriptures and prayers aloud, the power of God's anointing will begin to fill your life. Fresh Oil is a constant reminder that it is your fragrant offerings and real relationship that God wants. Holy Spirit takes care of the transformation that goes with it.
And Joshua's new worship CD, Holy Oil, will lift you into God's Presence over and over again. Joshua says it's not complicated. When you take the initiative and set aside your time, God is already there. Holy Oil's eight songs include:
Oily Anointing • Spirit Come • Heavenly Tongues • Drip by Drip (Oil and Wine) • Holy Laughter • Oil of God • Dwell in me (O Blessed Spirit) • Light One Candle.
Joshua says, Be fragrant, be faithful and be transformed!
Joshua Mills is an internationally recognized minister of the gospel, recording artist, author and conference speaker. He and his wife Janet have ministered in over 75 nations.
---