Psalm 91: God's Umbrella of Protection (Digital Download) by Peggy Joyce Ruth; Code: 9837D
Psalm 91: God's Umbrella of Protection (Digital Download) by Peggy Joyce Ruth; Code: 9837D
Psalm 91 is God's covenant provision of protection!
Over 50 years ago, Peggy Joyce Ruth had such severe FEAR and DEPRESSION that doctors put her in a mental institution. Then God told her to meditate on Psalm 91. Peggy Joyce took God's instructions seriously and meditated on, researched and studied every word in the psalm. She was set free and has been teaching on Psalm 91 ever since!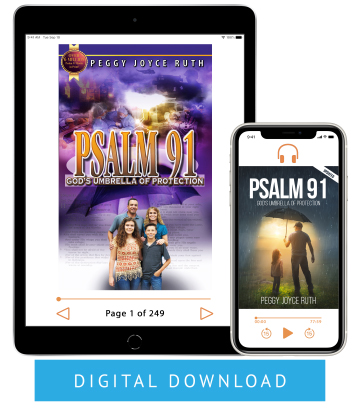 Her book, Psalm 91: God's Umbrella of Protection (recently revised), is the classic for operating in the supernatural through the 91st Psalm. Peggy Joyce also just recorded an exclusive 2-part audio set with expanded teachings and revelations. When you order these anointed ministry tools, we will also include her Psalm 91 Prayer Card and Psalm 91 Prayer Card for Children.
Psalm 91 is powerful protection for this generation!
---