From Chaos to Clarity & Obtaining God's Promise for Your Life (Book & 3-CD/Audio Series) by Mike Signorelli; Code: 9953
From Chaos to Clarity & Obtaining God's Promise for Your Life (Book & 3-CD/Audio Series) by Mike Signorelli; Code: 9953
Breaking Spiritual Stagnation: Get Unstuck and Pursue Your Dreams
With Mike Signorelli's new book, From Chaos to Clarity: No Turning Back, you will see how God uses all of your brokenness, fears and shame to bring revival into your life. Step out with boldness to launch the ministry that God has destined for you. Make choices that cut through the chaos in and around you and go after Jesus with all of your heart.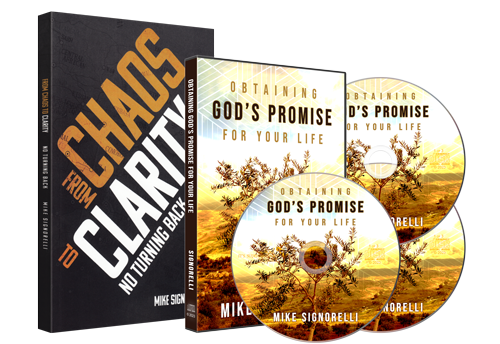 Maybe you've been a believer for quite a while and there's still some things that are holding you back, and there's still some things that God had prophesied a long time ago that you haven't yet seen come to pass. Well, we're going to diagnose that and remove that delay and release it into your life.
Unlocking God's Promises: Overcoming Giants in Your Life
With Mike Signorelli's audio cd set, Obtaining God's Promise for Your Life, you will drive out giants that are keeping you from your promise like self-pity, fear, counterfeit vision, compromise, shame, inconsistency, and selfishness. Pray 10 short prayers that unlock the thousands of promises of God with Scripture references focusing on healing, health, finances, restoration, strength and much more.
---