Prophecy Now with Kevin Zadai & Tracy Cooke (Digital Download) by Kevin Zadai/Tracy Cooke; Code: 9715D
Prophecy Now with Kevin Zadai & Tracy Cooke (Digital Download) by Kevin Zadai/Tracy Cooke; Code: 9715D
Navigate current events in step with God!
This exclusive audio package brings you prophetic insight and wisdom from two leading voices of our day, Kevin Zadai and Tracy Cooke.
Kevin's new series, Encountering God's Normal, gives you the perspective you need for today. His teaching helps you understand:
•   Why God created us in His IMAGE and LIKENESS!
•   The power of the your words and how they affect the atmosphere around you!
•   How one moment in God's presence transforms everything in you and around you!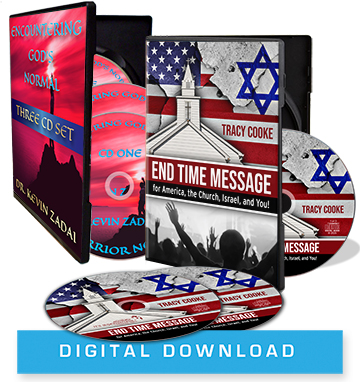 Tracy Cooke was recently visited by seven angels.
These angels appeared before him holding hands — some had swords and others had trumpets. Each carried a message for Tracy to release. His series, End Time Message for America, the Church, Israel and You, details recent events AND what hangs in the balance of America's elections, including:
•   That the coronavirus was sent by the enemy to produce fear in believers and disrupt the church!
•   The enemy's reason for causing political unrest—from impeachment to rioting, and the political left's interference with upcoming elections
•   The consequences of a Joe Biden presidency
•  What will happen when President Trump is reelected, including two future assassination attempts!
Tracy says the future of America and Israel are deeply connected. You'll want to know more!
---