Experiencing the Power of God's Word (Digital Download) by Dr. Clarice Fluitt; Code: 3197D
Experiencing the Power of God's Word (Digital Download) by Dr. Clarice Fluitt; Code: 3197D
Activate the Word of God in your life with this powerful resource!
Did you know that God's Kingdom must be voice activated? It is our responsibility and privilege as believers to both agree with God's Word and activate His will by decreeing and releasing the power of His Word into every life situation. 
In her new book, Experiencing the Power of God's Word, Dr. Clarice Fluitt teaches you key nuggets that will empower you to believe God for the impossible. As you speak biblical truth in faith, you will access every promise and blessing God has for you including emotional and physical healing, provision, supernatural protection and more!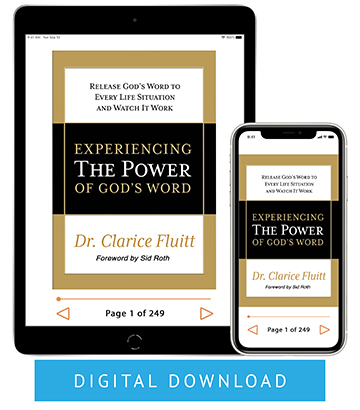 Dr. Clarice Fluitt is an internationally recognized motivational speaker who brings inspiration and insight delivered with wisdom and humor. Clarice's life is a remarkable chronicle of hilarious real life stories, tragic trials, testings and moving visitations of the Lord.
---