Do Not Leave Quietly (Digital Download) by Mario Murillo; Code: 3853D
Do Not Leave Quietly (Digital Download) by Mario Murillo; Code: 3853D
Sounding your prophetic cry
For years, Mario Murillo has weathered many cultural shifts, but his message has remained steadfast.
In the midst of our current cultural climate, God is seeking to raise up a body of prophetic people whose voices shape the direction of America.
Do Not Leave Quietly is a prophetic cry for every believer to: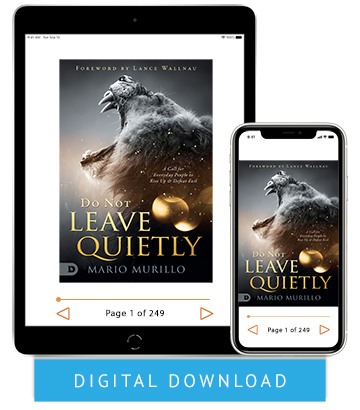 • Be ignited with holy resolve to stand against enemy plans
• Expose the enemy's schemes, and win the war on our freedom
Mario says the need is here and now. And we are here now, more than able to do it.
Mario Murillo rose from poverty in the Mission District of San Francisco. He felt a call from Jesus to do a 4-day crusade in San Jose, California. It lasted six months, reached over 250,000 people and birthed an international ministry.
---