Your Divine Invitation (Two Books & 2-CD/Audio Series) by Frankie Mazzapica & Charles Finney; Code: 9905
Your Divine Invitation (Two Books & 2-CD/Audio Series) by Frankie Mazzapica & Charles Finney; Code: 9905
Start Fresh!
After years of discontent, feeling a lack of the Holy Spirit's power and believing for healings and miracles, Frankie Mazzapica was fighting insomnia one night when he decided to look for a book that would put him to sleep.
He downloaded Power from God by Charles Finney for his e-book reader. However, rather than sleeping, he stayed up and kept reading until he finished the book early the next morning.
Frankie says Finney's book made him realize that "power from on high" is something that God wants for every believer. He decided to write Your Divine Invitation: Access the Holy Spirit to Complete Your Assignment to help believers everywhere discover that power.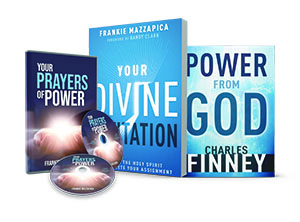 "The belief that only a small few are selected to receive supernatural power is a fallacy. God knows that before we have anything to offer, we must have His power," Frankie says. "We have the same assignment the disciples did. If they needed power then, we need power now."
Frankie's mission statement is, "I live to walk with the Lord and share His love and His power."
His conviction is that Jesus' three-year ministry, where teaching and miracles attracted seekers and built disciples, is the model for today's church. Believers should not rest until the same power displayed in the life of the Lord's disciples is present in their lives.
Your Divine Invitation includes practical steps every believer can take to position themselves to receive God's promised endowment of power.
Frankie Mazzapica is the founding and lead pastor of Celebration Church of The Woodlands, Texas. Frankie's encouraging, challenging, and humorous messages are nationally broadcast each Sunday on TBN.
---