Accessing Ancient Portals & Your Appointments with God (Book & 3-CD/Audio Series) by Dr. Sharon Nesbitt; Code: 9947
Accessing Ancient Portals & Your Appointments with God (Book & 3-CD/Audio Series) by Dr. Sharon Nesbitt; Code: 9947
Are You Ready to Tap Into Divine Cycles of Blessings?
Are You Ready to Tap Into Divine Cycles of Blessings?
If you are, you are not alone! There are countless believers whose lives do not reflect the abundance, overflow, and fullness of heaven's goodness. This leaves many feeling dissatisfied, crying out, "There must be more to life than this!" The good news is there is more!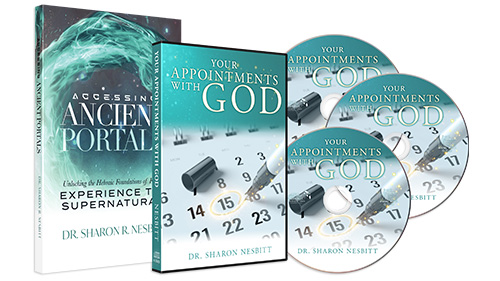 Get ready to discover how the ancient Hebraic roots of your faith are directly connected to you accessing ancient portals of blessing over your life right now. Dr. Sharon Nesbitt's life was dramatically transformed over twenty years ago by the principles in this book.
Expect to learn how to:
• Access hidden portals revealed through Scripture.
• Employ spiritual technologies used by Adam, Enoch, Abraham, and Jesus.
• Activate the foundations of faith through the Hebraic roots.
• Enjoy the blessings connected to God's appointed times and seasons.
These Kingdom keys will transform your life and catapult you into the supernatural dimension of abundant living that Jesus made available!
Your Appointments with God Await
Discover the divine power that awaits you in Your Appointments with God, a transformative teaching series by Dr. Sharon Nesbitt.
Uncover the profound significance of connecting with God through appointed times and seasons. These special meeting places serve as open portals where God imparts revelations, blessings, and guidance.
In this series, you'll explore the relevance of daily, weekly, and monthly appointments, aligning your life with God's perfect timing. As you embrace and keep these appointments, God will empower you with His divine power.
God becomes your Senior Partner, and you become the habitation of the Almighty, experiencing His Presence, miracles, and guidance in every aspect of your life.
Open yourself to the divine encounters that await you in Your Appointments with God and elevate your relationship with Him to new heights!
---