Turnaround Decrees & Turnaround – Proven Strategies for Your Breakthrough (Book & 3-CD/Audio Series) by Jon & Jolene Hamill; Code: 9867
Turnaround Decrees & Turnaround – Proven Strategies for Your Breakthrough (Book & 3-CD/Audio Series) by Jon & Jolene Hamill; Code: 9867
We can rise above our culture and every downward spiral.
The powers of darkness have been working overtime to turn a generation away from God, opposing God at every street corner and leaving a trail of family brokenness and wrong thinking in its wake.
But the good news is that you serve the God of the Turnaround.
Out of an unexpected prophetic word, Jon and Jolene Hamill launched a growing movement to agree with God for our nation. The results have been overwhelming!
Jon and Jolene's new book, Turnaround Decrees, intends to multiply that many times over—with prayers, decrees and activations that will render turnaround verdicts from Heaven on your behalf and our nation's behalf. It's the chorus of believers that Heaven wants to hear, and it starts in your living room.
The Lion of Judah is roaring now.
Turnaround Decrees empowers you to: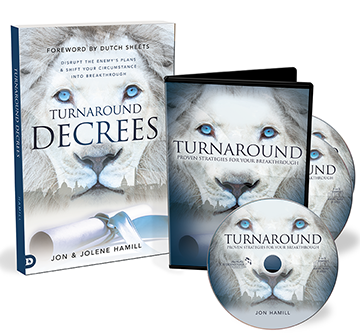 • Push through ANY God-opposing limitations
• Prophesy destiny over your children and future generations
• Stand against assaults of the enemy on our nation and its leaders
• Invoke your rights to God's Covenant of Peace and all intended benefits
Make your voice part of the Lion's Roar.
Jon Hamill simply asks—Love your family, your country? Yes. Love the culture of our day? Maybe not! Jon reminds you that the more your words match God's declarations, the more they resonate in this realm. His power is able to fix families, governments and even cultures.
Jon gets right to the point—your voice is a vital part of the Lion's Roar. With that in mind, Jon's 3-CD/audio series, Turnaround, will quickly build you up to speak out. Turnaround's proven strategies establish you as part of Heaven's government. Just submit yourself to God and make your voice heard. Nothing is too big, too far or beyond your reach!
A single verse of restoration, Isaiah 61:3, promises you beauty for ashes, joy, the garment of praise. Will God do it? Yes. Through you!
Jon and Jolene Hamill are based in Washington DC. They are founders of Lamplighter Ministries and are known as active speakers and authors as well as for media outreach.
---