The Supernatural Prayer of Jesus (Book, 3-CD/Audio Series & Prayer Guide) by Chad Gonzales; Code: 9906
The Supernatural Prayer of Jesus (Book, 3-CD/Audio Series & Prayer Guide) by Chad Gonzales; Code: 9906
Take hold of this prayer and never let go.
Chad Gonzales never imagined nearly 20 years schooling by Holy Spirit was ahead. But that's what he got, and it's what you get in a lot less time.
But the heart of it, The Supernatural Prayer of Jesus, is a prayer for all time and our day now. Chad gives you access to: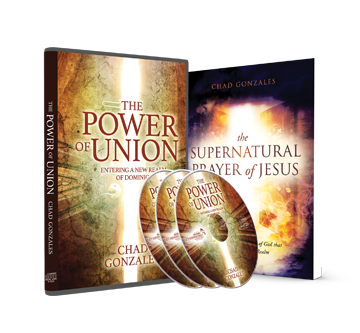 • Supernatural peace in Jesus
• Absolute rest in every circumstance
• Absolute cover from darkness.
Chad brings you into the depths of John 17, then carries you into his 3-CD/audio series, The Power of Union—because you are alive with John 17 power! We will also include his personalized prayer card based on the High Priestly Prayer from John 17.
Chad's personalized prayer card of John 17 will help you meditate and pray to obtain an impenetrable wall of God's Glory around you—your ultimate defense against darkness!
Dr. Chad Gonzales has a mandate to bring a supernatural life, filled with miracles, back to the body of believers. Chad is founder and co-director of The Healing Academy along with his wife Lacy. They reside in Tulsa, Oklahoma.
---