The Seven Spirits of God & The Ancient Path to Glory (Book & 3-CD/Audio Series) by Chris Reed; Code: 9927
The Seven Spirits of God & The Ancient Path to Glory (Book & 3-CD/Audio Series) by Chris Reed; Code: 9927
The Missing Ingredient That Activates All Other Gifts
With Chris Reed's new book, The Seven Spirits of God, you will learn the missing ingredient that activates all the other gifts needed to move into the realm of greater glory. See how revelation on the tabernacle of Moses will trigger the next great glory shift. Understand how having a godly fear of the Lord restores the church's dynamic supernatural power found in the Book of Acts. Open doors into the throne room and step into the Holy of Holies, just like the Apostle John did in the Book of Revelation.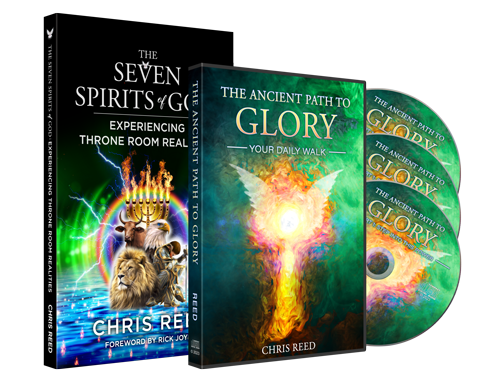 Be clothed in the mantle of the seven spirits of God and bring down heavenly power all around you. Learn the prophetic meaning of the seven spirits of God found in the seven golden candlesticks of the menorah.
Walking in the Ancient Path to Glory
When you listen to Chris Reed's audio series, The Ancient Path to Glory, receive the fullness of the seven spirits of God and perform even greater works as the scriptures promised. Walk in the reality of the Acts 5 mandate that imparts the signs and wonders you've always wanted to see. Release the spiritual gifts that are already within you and experience the deeper grace needed in these end times.
---