The Seven-fold Spirit of God & Partnering with the Spirit of God (Digital Download) by Keith Miller; Code: 9694D
The Seven-fold Spirit of God & Partnering with the Spirit of God (Digital Download) by Keith Miller; Code: 9694D
Jesus had it. You want it!
Keith Miller asks, How much of God do you want? His new book, The Seven-fold Spirit of God, helps you encounter the Person who moves on the face of your reborn spirit! By this Person, Jesus accomplished everything he did.
And today, the person Jesus redeemed — you — represents God's constant ambition. He wants you to become like Him. At the minimum the Spirit has a mandate to be your constant Partner for transformation.
Keith Miller says do not live to your minimum! Be more than clay on a potter's wheel. The Seven-fold Spirit is your open door to encounters with the power of God! Your life assignment, Keith says, is to discover what these words from Isaiah meant to Jesus: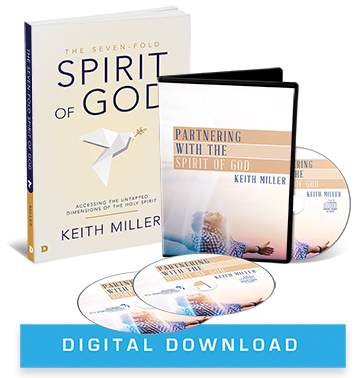 • The Spirit of the Lord • Wisdom • Understanding • Counsel • Might • Knowledge • The Fear of the Lord
By the time you navigate Keith's book and powerful audio series, Partnering with the Spirit of God, you will be well underway. Keith says ALWAYS ask God for more. Your covenant relationship has the power of the Spirit of God to do it!
Keith Miller is a prophetic revivalist who, with his wife Janet, founded Stand Firm World Ministry. Their ministry emphasis is on God's redemptive blessings through the power of the Holy Spirit. The Millers are based in Amarillo, Texas.
---