The Rabbi, the Secret Message and the Identity of Messiah (Digital Download) by Carl Gallups; Code: 3697D
The Rabbi, the Secret Message and the Identity of Messiah (Digital Download) by Carl Gallups; Code: 3697D
It all started with a simple note.
In early 2005, Israel's most venerated Orthodox Rabbi, Yitzhak Kaduri, claimed he had met the true, soon-coming Messiah.
In The Rabbi, The Secret Message and The Identity of Messiah you will discover the global media cover up of the ages related to the death of Rabbi Kaduri and his mysterious note —including: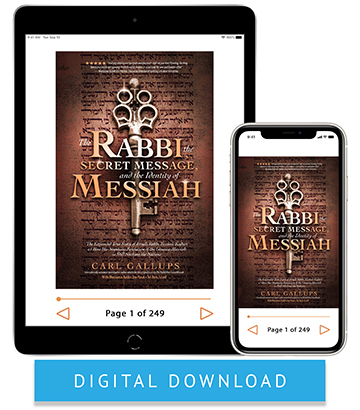 • The death threats, ritualistic curses and purposed confusion set in motion by powerful groups and personalities
• Never-before-told secrets, eyewitness testimonies and supernatural "back stories"
• Shocking biblical mysteries finally being unveiled
• Attempts to change biblical and Israeli history, word-meanings and hidden details about the real name of God
• Connections the authors have with Rabbi Kaduri, his ministry and important figures within the Israeli government.
• 321 pages
Carl Gallup published the world's first and only book about the Rabbi Kaduri story in 2013. That book, The Rabbi Who Found Messiah, became an international bestseller and was eventually published in five different languages.
---