The Grace Gift of Prophecy (Digital Download) by Jermaine & Margaret Green; Code: 9918D
The Grace Gift of Prophecy (Digital Download) by Jermaine & Margaret Green; Code: 9918D
Unlock your full spiritual gifting and purpose
With Jermaine and Margaret's book, the Grace Gift of Prophecy, you will understand how having the gift of prophecy is different from receiving the office of the prophet. Learn about the three prophetic realms and the keys to operating prophetically. Be equipped to access the prophetic voice of God through prayer. Learn how to get guidance and prophetic mentorship. Unlock your full spiritual gifting and purpose God has for you in advancing His kingdom. See how fear of failure can hinder you in developing your gift of prophecy. Realize that living a consecrated life increases the power and accuracy of your prophecies. Understand the difference between prophecies that are exhortation, comforting and identifying verses that are warnings and rebukes. Discern how some prophecies you give are for the body of Messiah and some are only personal prophecies for individuals.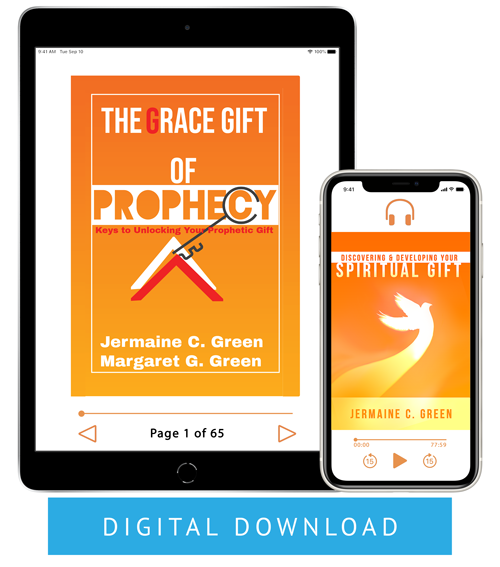 Remove impediments to hearing God's voice
Through Jermaine's brand-new exclusive audio teaching series, Discovering and Developing Your Spiritual Gift, you will learn how to pray and hear the voice of God for yourself. Receive practical guidelines and activation to operate your prophetic gifting. Discover and develop the spiritual gift God has given you. Remove blockages that prevent you from hearing the voice of God. Distinguish between the gifts of prophecy, discernment, words of knowledge and words of wisdom. Be equipped in Spirit-led prayer that is foundational for developing the gift God has given you.
---