Secrets of the Angels & Unleashing Your Angelic Authority (Book & 3-CD/Audio Series) by Jamie Galloway; Code: 9860
Secrets of the Angels & Unleashing Your Angelic Authority (Book & 3-CD/Audio Series) by Jamie Galloway; Code: 9860
Your natural senses leave a lot out of the picture!
In Secrets of the Angels, author and seer Jamie Galloway looks at Scripture, historical records and his firsthand encounters as he unpacks the assignments and kinds of angels found in the Bible.
Those same angels, anonymous or not, are tasked to help you fulfill your Kingdom destiny. Jamie's insights help you know when and how angels are acting on your behalf.
Heaven is coming down to this realm!
Like you, every angel has its own assignment and influence. As Jamie explores the unseen realm, Secrets of the Angels helps you see Heaven's activities as a pattern for your own life. It applies now, but also in the Messianic age when you take on your new governmental roles.
Jamie helps you understand holy and fallen angels, including…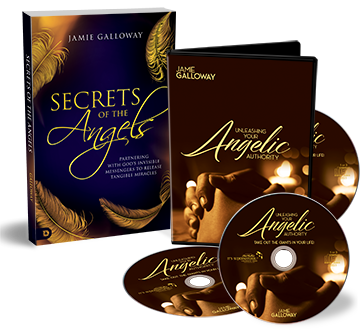 • Watchers
• Seraphim
• Cherubim
• Archangels
• Ministering spirits
• The "living creatures"
Unseen opposition must go!
As a seer, Jamie understands our five natural senses leave a lot out of the picture. In Unleashing Your Angelic Authority: Take Out the Giants in Your Life, Jamie's 3-CD/audio series focuses on opposing giants operating in the unseen realm. And more.
Unleashing your Angelic Authority will equip you to deal with these fallen adversaries. Jamie then gives special priority to the prophet Joel's promise of an even greater Pentecost coming in our day. Jamie urges you to pray for this end time move of the Spirit of God, His power and angelic hosts.
Jamie's 3-part series covers: • Partnering with your angels • Speaking to your giants • Your coming greater Pentecost. Whether you see your angels or not, they're your partners now and in the season ahead. Get ready!
Jamie Galloway carries a revival message that imparts a lifestyle of the supernatural. He has a broad ministry experience from planting churches to speaking at stadium events. He is a sought after prophetic communicator and is involved in various media projects that highlight the move of God for our generation.
---