Releasing Prophetic Solutions & God Solutions (Digital Download) by Christy Johnston; Code: 9693D
Releasing Prophetic Solutions & God Solutions (Digital Download) by Christy Johnston; Code: 9693D
You Have the Authority to See Every Prayer Answered!
Are you praying the same prayers every day without seeing a change? Christy Johnston wants to equip you to pray powerful, chain-breaking, stronghold-dismantling prayers that produce measurable results and cause your world to look more like heaven.
In her book, Releasing Prophetic Solutions, Christy shares the revelation she received when God intervened in her life by revealing supernatural strategies to the struggles she was facing. As Christy partnered with what God was showing her, she was emboldened to pray in another dimension—a realm of Kingdom authority that sees prayers answered and circumstances shift. 
You have the same access to this realm! Through Christy's book and audio teaching series, God Solutions, you will discover how to: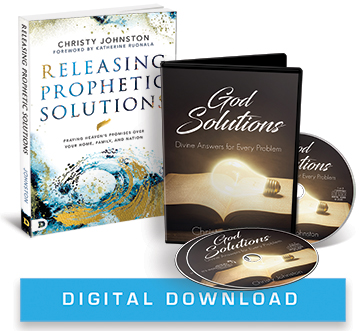 • Partner with heaven and learn how to receive prophetic solutions
• Shift from praying "begging prayers" to making faith-filled decrees.
• Use the spiritual weapons and tools that God has already entrusted to you.
• Win every battle while seated with Jesus in heavenly realms.
These are God's solutions for you! You have the authority to release them!
Christy Johnston is an intercessor, teacher, prophetic voice, and justice carrier. Together with her husband, Nate, and their two young daughters, she is passionate to raise and empower God's sons and daughters to release the Kingdom of God across the Earth.
---