PTT – Personal Trainer for Tongues & Sid's 3 New Booklets (DVD/3-CD Set & 3 Booklet Set) by Sid Roth; Code: 9453
PTT – Personal Trainer for Tongues & Sid's 3 New Booklets (DVD/3-CD Set & 3 Booklet Set) by Sid Roth; Code: 9453
Re-kindle your own spiritual fire even as your gifts help us carry the Gospel to Israel, the Middle East and the world.
P.T.T.- Personal Trainer for Tongues. Sid wants you to learn about speaking in supernatural languages from top authorities on the subject. The personal testimonies of eleven noted teachers will help you tap into new levels of this gift from heaven and reap God's intended benefits!
The 3-CD set comes with a special mentoring DVD. Play this for your Christian friends who have questions on the validity of this gift, or who are hungry for more of God. In addition, get keys to unlock multiple languages, understand your tongues and much more. Sid also prays for you to be baptized in the Holy Spirit.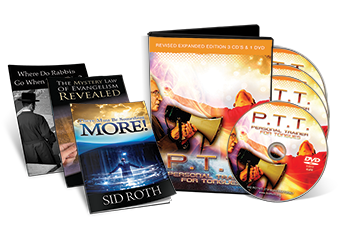 There Must Be Something More! As a young Jewish businessman, Sid Roth's goal was to be a millionaire before age 30. At age 29, he realized that was not going to happen. Get Sid's powerful personal testimony of how he was delivered from demonic torment to indescribable peace.
Mystery Law of Evangelism. "Some have expressed amazement at how easily I lead people to the Lord. In this booklet, I share the best wisdom God has given me from more than 40 years of Jewish evangelism. Wherever I go, I find that the unsaved are receptive to the Good News."
Where Do Rabbis Go When They Die? A Jew is born a Jew and will die a Jew no matter what they believe. But most do not know there is something better than religion—having your own experiential knowledge with God. This experiential knowledge allows us to not just believe in God but to know God! You will be surprised to learn what even great rabbis say about the other side of life — where they will spend eternity. Your Jewish friends need this book!
---