Kingdom Thinking Package (Digital Download) by Joe Joe Dawson; Code: 9798D
Kingdom Thinking Package (Digital Download) by Joe Joe Dawson; Code: 9798D
God Has No Limits!
When our thinking is wrong, our decisions and circumstances will reflect it. In his book, Kingdom Thinking, Joe Joe Dawson challenges you to confront the negative thought patterns that keep you from living your life to the fullest in God.
A mind that is set on the Kingdom of God will manifest the Kingdom of God, bringing heaven to earth in your life.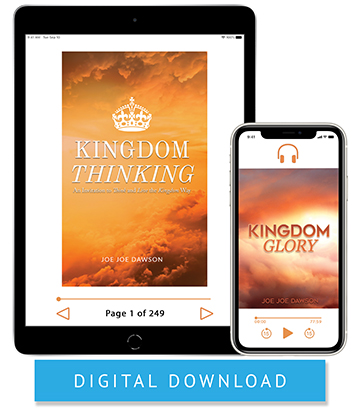 Joe Joe's 60-day devotional, Walking in Kingdom Power, will teach you how to live and operate in the Kingdom. God wants you to succeed in life more than you do!
In his exclusive new 2-part audio series, Kingdom Glory, Joe Joe shows how God's supernatural Glory meets every need and how to enter the secret place of intimacy with God. Good things happen in the Presence of God!
God wants you to succeed in life more than you do!
Joe Joe Dawson is founder and apostle of Roar Apostolic Network and Roar Church Texarkana. He empowers believers to accomplish the call God has placed inside of them and to walk in personal revival.
---