It's Rigged in Your Favor (Digital Download) by Kevin Zadai; Code: 9672D
It's Rigged in Your Favor (Digital Download) by Kevin Zadai; Code: 9672D
How would you live if failure was impossible?
When Kevin Zadai died, he met Jesus face to face. The encounter transformed Kevin. But Jesus also revealed a life-changing truth, and sent him back to share it with every believer: "You can't fail because it is all rigged in your favor!"
Revelation of these simple words will shift your whole perspective on life. Through Kevin's brand new book and 2-CD series, It's Rigged in Your Favor, you will receive heart revelation and learn to: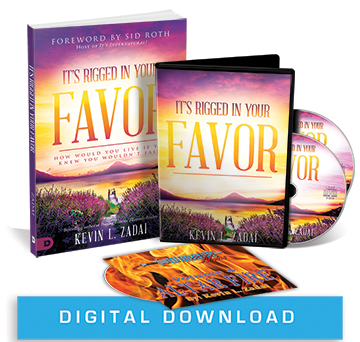 • Live out the plans God has written in your heavenly book
• See accelerated answers to prayer
• Remove blockages hindering mountain-moving faith
• Overcome worry, fear and all anxiety.
Kevin also includes his just-released soaking CD, Altar Fire. Kevin's anointed instrumental music literally comes from Heaven and will create an environment for the presence and glory of God.
God strategically planned your life ahead of time. And you win.
Kevin Zadai is a licensed pilot who God told to be a flight attendant. Over a long career with a major airline, the former employee-of-the-year ministered to its passengers daily, carrying the Glory of God as he worked. Today Kevin is retired, but he is still a busy traveler, including frequent trips to Heaven.
---