Host the Holy Ghost & Holy Spirit Upgrade (Book & 3-CD/Audio Series) by Vlad Savchuk; Code: 9948
Host the Holy Ghost & Holy Spirit Upgrade (Book & 3-CD/Audio Series) by Vlad Savchuk; Code: 9948
Being One with God IS For Everyone!
If you long for MORE of God…I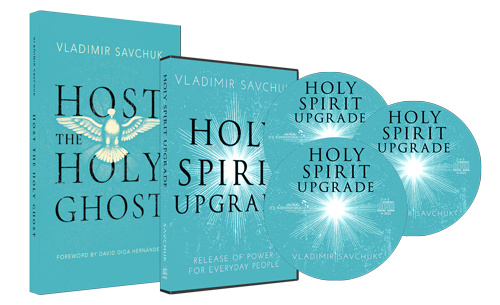 f you hunger for His love to permeate your everyday life… And, not just on Sunday, but EVERY SINGLE DAY! If you dream of the days when people like Moses and Deborah of the Bible experienced amazing things, then Vlad Savchuk's book, Host the Holy Ghost, and CD set, Holy Spirit Upgrade will cause you to feel as if you are, finally, drinking deeply from the refreshing well of Truth. Vlad wants to teach you how to have true, life-changing, intimacy with the One who knew you before you were even born.
---