Fire on the Family Altar, How To Devil Proof Your Home & Praying Together (Book, 3-CD/Audio Series & Digital Download) by Cheryl Sacks; Code: 9923
Fire on the Family Altar, How To Devil Proof Your Home & Praying Together (Book, 3-CD/Audio Series & Digital Download) by Cheryl Sacks; Code: 9923
Your Home is a Family Altar!
With Cheryl's new book, Fire on the Family Altar, you will see how to make a special place and time to encounter God, whether alone or with family, that becomes a sacred family altar. Find inspiration and a clear roadmap to help you begin and maintain a family altar in your home, in your church, and your community. Create a supernatural canopy to defeat the destructive demonic agenda and bring peace over your own home. Transform your home into a life-giving storehouse for God's glory and a place of refuge for others.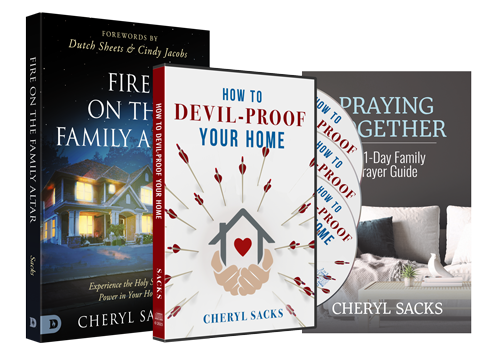 Devil-Proof Your Home
Cheryl's brand-new and exclusive three-part audio series, How to Devil Proof your Home, will empower you to devil-proof your home by speaking life-giving words and blessings over your children and your entire family. Devil-proof your children by praying targeted prayers so they will fulfill their God-given destiny and purpose and not be stopped by the enemy.
With Cheryl's downloadable 31-Day Family Prayer Guide, Praying Together, you will learn how to do inspirational, intimate home communions with your family. Write a family covenant containing the values your family wants to live by. Pray powerful prayers with your children for their schools and classmates, and so much more.
---