Escaping Hell & The Supernatural Power of the Blood of Jesus (Book, 3-CD/Audio Series & Bonus CD) by Michelle Steele; Code: 9840
Escaping Hell & The Supernatural Power of the Blood of Jesus (Book, 3-CD/Audio Series & Bonus CD) by Michelle Steele; Code: 9840
The blood of Jesus will help you experience life on Jesus' terms!
In her brand-new book, Escaping Hell, Michelle Steele shares the shocking tale of how one bad choice after another led her from a happy childhood in an affluent family down a self-destructive path to become a prostitute, junkie and criminal. Yet even more captivating is the story of how Jesus' miracle-working power transformed her into the wife, mother and pastor she is today. She shares how you too can experience life on Jesus' terms!
In her exclusive 3-CD series, Michelle teaches you about The Supernatural Power of the Blood of Jesus and how you can apply it to your conscience and overcome shame and guilt. But don't stop there!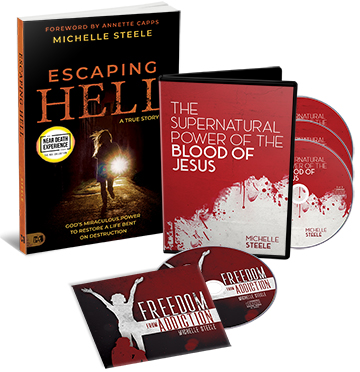 And through Michelle's bonus CD teaching, Freedom from Addiction, you will learn how to cast down thoughts that keep you in bondage to addictive tendencies. God wants you to be set free. He sees His destiny for your life!
Yes, free from guilt and shame! Blessed through the blood of Jesus!
Michelle Steele is Co-Pastor of Faith Builders Church with her husband, Philip. She is the host of the Faith Builders television program, a published author, business owner, speaker, and mother.
---