Created for Purpose (Digital Download) by Guillermo Maldonado; Code: 9685D
Sale!
Created for Purpose (Digital Download) by Guillermo Maldonado; Code: 9685D
Your reason for being is as unique as your fingerprint.
While your fingerprint speaks of identity, purpose gives meaning to why you breathe. You might want to know why that is!
In Created for Purpose, Guillermo Maldonado spells out how your presence on this earth is far from insignificant, and your significance is in God alone. You are wanted here. Your purpose is an extension of God's intended dominion on earth. It's not complicated, Maldonado says:
• Your dominion is grounded on the faith, anointing and gifts God has given YOU alone.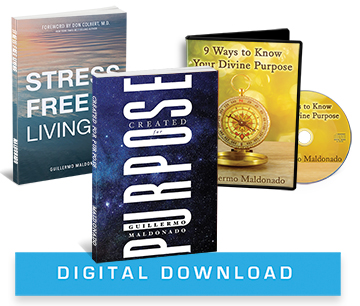 What does it mean to be called by God? Find out and live it. Everything else is…worldly misdirection.
Then in 9 Ways to Know Your Divine Purpose (CD), Apostle Maldonado reveals 9 indicators of purpose. These indicators guide you to finding God's will for your life. Nothing can take that away, but you alone can find it. Guillermo says your purpose will light up your life!
Guillermo also wants to ground you in how to accomplish your purpose and navigate life free of modern cultural stresses. His book Stress Free Living is a blueprint for bearing Kingdom fruit free of modern stresses that rob you of productivity. The peace of Jesus is greater!
Apostle Guillermo Maldonado is the founder of King Jesus International Ministry. Active in ministry for over twenty years, he is a spiritual father to more than 350 churches in 50 countries.
---