Abiding in the Secret Place (Digital Download) by Dennis & Jen Clark; Code: 9910D
Abiding in the Secret Place (Digital Download) by Dennis & Jen Clark; Code: 9910D
Secrets to the Secret Place
Drs. Dennis and Jen's book, Abiding in the Secret Place, offers five essential keys to help you deepen your connection with God and experience His presence in a tangible way. Through scriptures, practical exercises, and overcoming barriers, you can achieve profound healing and develop a more intimate relationship with God. Also include in Abiding in the Secret Place is Brother Lawrence's influential work, The Practice of the Presence of God,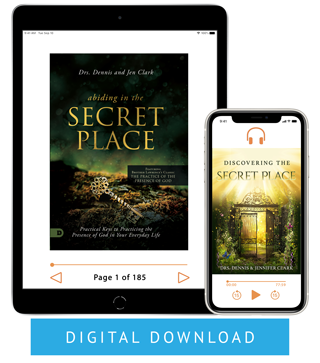 providing guidance on experiencing supernatural communion with God in your daily life. Discover the secrets to accessing this sacred realm and carry God's presence with you at all times, transitioning seamlessly from your secret place to the outside world.
Abiding in God Made Simple
Through their book and Bonus CD, Simple Prayer, you will be gently guided through a 60-day challenge with scriptures, daily prayers, healing prayers, and space for personal journal notes, transforming the perception of prayer from a burden to a joyful experience in your secret place. You will also get their new two-part audio CD set, Discovering the Secret Place.
---