What is the One New Man?
What is the One New Man?
by Messianic Rabbi Eric Carlson
Yeshua prayed 5 times in John chapter 17 that "we" may be one as He and Father in heaven are.
"I do not pray for these alone, but also for those who will F96 believe in Me through their word; that they all may be one, as You, Father, are in Me, and I in You; that they also may be one in Us, that the world may believe that You sent Me. And the glory which You gave Me I have given them, that they may be one just as We are one: I in them, and You in Me; that they may be made perfect in one, and that the world may know that You have sent Me, and have loved them as You have loved Me." John 17:20-23.
When Yeshua prayed this prayer 2,000 years ago, denominations didn't exist! There were and are presently only two people groups! Jews and Gentiles. Rabbi Shaul (Paul) explains further in Ephesians.
"But now in [Messiah] Jesus you who once were far off have been brought near by the blood of [Messiah]. For He Himself is our peace, who has made both one, and has broken down the middle wall of separation, having abolished in His flesh the enmity, that is, the law of commandments contained in ordinances, so as to create in Himself one new man from the two, thus making peace" Ephesians 2:13-15. (See also Eph. 2:19-21 and 3:1-6).
There can not be a "One New Man" without Jews or Gentiles. Yeshua will return when "we" are one body of believers! This is not a church replacement theology nor do we believe or support that Ephraim is the church. There are physical Jews and physical Gentiles that love Messiah Yeshua, but Jews do not become Gentiles nor do Gentiles become Jews. Church replacement theology or any statement that the church has replaced Israel is unbiblical and not of God.
The law of evangelism states "to the Jew first" as stated in Romans 1:16. Messiah will come when Israel and all the nations know Him.
"O Jerusalem, Jerusalem, the one who kills the prophets and stones those who are sent to her! How often I wanted to gather your children together, as a hen gathers her chicks under her wings, but you were not willing! See! Your house is left to you desolate; for I say to you, you shall see Me no more till you say, 'Blessed is He who comes in the name of the Lord!' " Mathew 23:37-39.
The "One New Man" is the "End Time" body of believers! God is restoring His people!
Unless otherwise indicated, Scripture taken from the New King James Version. Copyright ©1979, 1980, 1982 by Thomas Nelson, Inc. Used by permission. All rights reserved.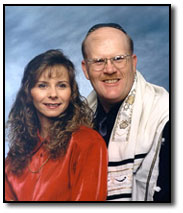 Messianic Rabbi Eric Carlson and his wife Rabbitzin Barbara of Newport News Va., have been called to spread the Good News of Messiah Yeshua's Grace and Glory in the United States and in the countries of the Former Soviet Union (having performed Gods work in Hungary, Russia, and the Ukraine).
Active in Aliyah, the world wide exodus of the Children of Israel back to Israel as prophesied in the Bible, Zion's Sake has sponsored the return home of over 2,269 Jewish people from Russian and the Ukraine. Through a prophetic vision from God, they were called to spread the "Good News' of the Jewish Messiah according to the Law of Evangelism; To the Jew First. To provoke the Jewish people to jealousy. To reach the lost and hurting through the Love of Messiah and to feed the starving and clothe the naked in Newport News, Virginia, America, and the Nations.
Rabbitzin Barb Carlson Leads the Zion's Sake dancers, a "One New Man" (Ephesians 2:15) Messianic Jewish Dance Team. They are dedicated to restoring Jewish and Davidic Dance. Many of their dances consist of the "circle dance" which represents unity. It is also traditional Judaic beliefs that demonic forces cannot penetrate a circle. They dance before the Lord, sowing praise and worship unto the God of Israel!
Click here for Congregation Zion's Sake's web site.
---