Is God in the Earthquakes?
Is God in the Earthquakes?
by Lonnie Lane
When God gave me a prophetic word I didn't think it would have immediate application for my family, or for my city. I was reading in 1 Kings when Elijah, following a great spiritual victory for God, was reduced to fear when Jezebel, who had been murdering the prophets, threatened his life. He took off running "a days journey into the wilderness" (19:4) to get as far away from harm's way as possible. Exhausted, he falls asleep. But an angel touches him to wake him up with breakfast. "Arise and eat," he says to Elijah who finds not just breakfast but a hot breakfast, pancakes it would appear, baked on hot stones. Angels cook apparently. At least this one did. How he heated the stones, well, I guess angels can do what angels do. These 'angel food cakes' sustained Elijah so that he "went in the strength of that food forty days and forty nights to Horeb, the mountain of God" (:8).
What was he seeking to do? Find safety in God's presence, in the mountain of God. Once there, he hid in a cave and, as the text says, he "lodged there" (:9). How long do you have to be there for it to be lodging? Lodge means camp, abide, reside, live, bunk, and sojourn. So we get the sense that Elijah may have been there at least a little while. While he was waiting for God, it seems as if God may have been waiting for him – to regroup, to ask Him, "Now what, Lord?" At some point, Elijah hears from God: "Behold, the word of the LORD came to him, and He said to him, "What are you doing here, Elijah?" (:9). I love the personal attention of God in this. God finds Elijah hiding in the cave. He knows exactly where he is, and He calls him by name: "Elijah, what are you doing here?" Implicit in this question is that this isn't where God would have him be.
Was He speaking to rebuke him or to comfort him?

Now depending upon your view of God, you may read something into God's voice here that would reveal whether you think God is annoyed with him, or angry with him, or compassionate toward him. Was He speaking to rebuke him or to comfort him? As I've mentioned before, I've heard the audible voice of God, so when I read that I said (and wrote in the margin of my Bible), "I know that voice!" I know the power in tenderness of that Voice. Ultimate authority bound up in the utmost gentleness are mutually conveyed in that Voice. Holy and welcoming at the same time!
Then God tells him, "Go forth and stand on the mountain before the LORD" And behold, the LORD was passing by! And a great and strong wind was rending the mountains and breaking in pieces the rocks before the LORD; but the LORD was not in the wind. And after the wind an earthquake, but the LORD was not in the earthquake. After the earthquake a fire, but the LORD was not in the fire" (:11-13a). How long do you think it took for all those things to take place? Wind so strong it dislodges rocks from the mountain. An earthquake that must have made the mountain tremble. Fires. What was burning? How close did it come to Elijah's cave? What put it out? How much did it burn around him? Did all this happen one right after another immediately? Or was this a matter of days…weeks…months? Elijah is still in the cave when all this took place because he was told to stand before the Lord, but he's not sensing the Lord being there in these happenings. All this calamity is going on and Elijah has to discern whether God is in the storm and the wind, and the earthquake, and the fire. That's a lot of horrible things happening at once. The amazing thing is that Elijah knew these were not from God. This wasn't the voice of God he had known, and therefore these did not represent the Lord he was to stand before as God was not in those things.
When he finally senses the Lord's presence, it comes as "the sound of a gentle blowing" (:12b). Some translations say, "as a still small voice." The Hebrew reads as "a small whisper." It made me wonder if the "mighty rushing wind" at Pentecost when the Holy Spirit came to the 120 disciples wasn't this same "whisper blowing" times 120 to make it mighty. Now when Elijah hears this sound, he discerns it's the voice of the Lord and responds with humility and immediate obedience. "When Elijah heard it, he wrapped his face in his mantle and went out and stood in the entrance of the cave"(:13). The Lord was not in the upheavals, or the storms, or the catastrophies that went on for however long it took for all that to happen. Elijah did not respond to the shaking of the earthquake, however terrifying it may have been for him. It was only when he finally knew he heard God's gentle voice, the voice that he had known before, that he responded to God. When God's voice came to him this time, He asks him the same question He did before: "What are you doing here, Elijah?" Elijah gives God the reason he's there, hiding, quite sure he's the only one left still serving God – all the rest are dead, and they're after his life next. God's response: To give him his next assignment. And oh by the way, Elijah, you're not alone. There are 7,000 others who have not succumbed to bowing their knees nor kissing the Ba'al, which means master. For Israel it was an idol, but the same would apply to anything or anyone that seeks to be master over your life rather than the Lord, anything that wants to take the place of Almighty God in your life. Note: Never bow to anyone but Yeshua, nor kiss anything calling itself or himself "master."
As I pondered all this before the Lord, praying that we, as the people of God would be discerning as to whether God was in the storms, the earthquakes, the fires we may experience in our life times, He gave me the following word which I believe He would have me share with you who are His beloved children.
"As I called Elijah by name, because I knew him, so I call you by name, because I know you. There will be many storms, (social and in the natural), earthquakes and fires taking place in the days ahead, even in unprecedented numbers and manners. But you are to know I am not in them, nor am I bringing them about. You know My voice. Listen for My voice in what you hear going on around you. Be a voice for God: Speak and declare the goodness and safety of hiding in God to others. If people, even My people, hear wrath in the goings on, they will flee from Me, and not to Me if they believe it is I who bring the destruction.
"I do bring about a shaking but a shaking is to sift and relieve you of what clings to you that is not profitable. It removes from you what you cling to that will not enable you to stand, even stand before Me, blameless and with great joy. But I am not the author of confusion, nor do I cause to kill, steal or destroy. I am the God of redemption, your safe place for those who come to Me. Do I allow these things? Yes, for you know I have given you free will, even to My own hurt, for the alternative would be contrary to My very nature of love which must be free to love – and to not love.
"The line will be drawn by those who cling to Me in faith and trust in My goodness, and those who blame Me for the consequences of mankind's unloving ways. Be careful what voice you are hearing, dear ones. Listen! For My power is spoken in love. When you hear otherwise, flee. Even when I correct, it is for redemptive purposes. The fires, the earthquakes, the wind storms will not be judgment from Me, but they will be the consequences of those who are not looking to Me. I am the Savior, not the destroyer. And while I am the Judge, the judgment comes from mankind's own ways, at their own hands when they reject My ways.
"Hide thyself in Me. If ever there was a time to rest in Me, it is when there is great upheaval. To whom else and where else would you run for protection? I will speak to you. Listen for My voice to you at all times. Fear not, and again I say fear not. The glory of the Lord will rest upon those who rest in Me."
Perhaps you would like to take a moment to digest those words as unto the Lord before you read on. Every prophetic word is to be judged, so for yourself, discern if you believe those words are coming from God. If you believe they are, you may want to respond appropriately to Him. Then I would like to add some thoughts. The earthquake in Haiti has been attributed to God by some, to the devil by others, to natural causes to yet others. How we see God in things like this is critical. As the word above said, we will either flee to Him or from Him, depending on whether we see calamites such as these as being judgment from Him, or seeing Him as the One who rescues us from harm.
Always sinners are welcome to "come home" to Him in true repentance.

This is not to say God never gets angry. God gets angry? Wrath can be His, yes, but as far as I can see, it is always about the violation of love – love for Him, or love for others that brings His wrath. There's no wrath for wrong doctrines, for instance, unless that doctrine betrays God Himself or others in unjust or unloving ways. But even so, there always is room for redemption. Always sinners are welcome to "come home" to Him in true repentance. There are things mankind does that will bring a curse upon themselves (See Geneses 12:3, for example). But God does not plan the curse. He has "redeemed us from the curse…having become a curse for us" (Galatians 3:13). He is altogether good – "the good shepherd lays down His life for the sheep" (John 9:11b).
We really need to settle in our own minds and hearts whether we believe God is a God of wrath who causes destruction, or whether He is a God of goodness, love and truth who is always working to redeem those who are lost, and to make those of us who are already His more like Yeshua who told us of the goodness of God continually. He showed us God's goodness by forgiving His enemies and laying down His life for them.
This prophetic word became rather real to me and to my church body to whom I gave this word because of a tragedy that has come to our city among some eleventh graders in the Christian school which four of my grandchildren attend. It was an opportunity to blame God for allowing it to happen. Indeed, initially some of the children and even some of the teachers were confused and disoriented in the shock of it all. But they rallied and came together. Leadership stepped in and made it clear to a shaken student body and their parents what Yeshua said: "I say to you, love your enemies and pray for those who persecute you" (Matthew 5:44). And so they prayed, and drew closer in the love of the Lord, though sadly, not all of them. This was an emotional earthquake. Clearly not something God planned. But how they respond, each one, will determine how they relate to God for years to come. Maybe eternally. Will they become bitter and hard, or sweet in the grace and forgiveness of the Lord?
We do live in a fallen world where natural disasters do happen. And there are times when God's people get caught in an evil web spun by those motivated by hatred toward God or who despise righteousness and justice. In that case (and I say this from my own limited but very real experiences), God will be "a very present help in trouble" (Psalm 46:1). We know that God is our safety and "He is a shield to those who walk in integrity"(Prov. 2:7). And that no matter what takes place, "God causes all things to work together for good to those who love God, to those who are called according to His purpose" (Romans 8:28).
God is good, but God is not a house divided. He is patient but a time will come if evil continues when God will eventually lift His protection. When people are given over to the devil's ways, they reap the fruit of his (satan's) nature and character. Play with evil and you'll be burned by evil. That's different than God designing and manufacturing the crisis. But God will always know who are His, even if He has to find us hiding in a cave somewhere. He will see to it that we who are His hear His voice and respond to Him if we are listening for it. Listening for it daily is a good practice so you know His voice in a press. Know His word so you can be familiar with what He would and would not say to His people. Peace comes even in the midst of a storm when you know that you are safe in the palm of the Lord's hand, or tucked securely under His wing while He protects you from the evil one. Here's the difference between good and evil, according to Yeshua Himself: "I am the door; if anyone enters through Me, he will be saved, and will go in and out and find pasture. The thief (satan) comes only to steal and kill and destroy; I came that they may have life, and have it abundantly. I am the good shepherd." (John 10:9-11).
The one other thing, is to know the rest of the Lord. If you are lying on your bed, you are resting. You can only be resting your best if you've stopped working. It is resting in the goodness of our Good Shepherd that will allow us to remain in His peace. We don't have to wait for a crisis. Today is a good day to begin to live your life in greater rest in the Lord than ever before. Ask Him to teach you how to rest in Him. Rest comes from the confidence of God's goodness toward you. When we can rest in Him daily, we can rest in Him in times of trouble, should they come. When that happens, then the glory of God can be manifested in your life as your trust in Him and His goodness becomes your overarching confidence. May it be so. Amen.
Reprint of this article is permitted as long as you use the following; Use by permission by Messianic Vision, www.sidroth.org, 2010.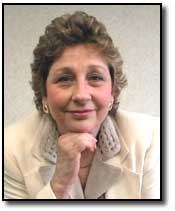 Scripture quotations are from the New American Standard Bible Copyright ©1960, 1962, 1963, 1968, 1971, 1973, 1975, 1977, 1995 by The Lockman Foundation, La Habra, Calif. All rights reserved. Used by permission.
---