Does God Really Have A Son?
Does God Really Have A Son?
by Lonnie Lane
I've had occasion to be in dialog with two sets of people recently, Jews and Muslims, neither of whom believe God has a son. The uniqueness of faith in Yeshua is the belief, not only that He rose from the dead – unique enough!! But that He is God's son. It was an issue in Yeshua's day, and it still is the defining issue. There are even those today who call themselves believers in Yeshua in the church and in Messianic Judaism, yet who do not believe in the divinity of Yeshua. This seems to be something worth defining.
Numerous confrontations between Yeshua and the religious hierarchy were about this issue of Him saying God was His Father. This would make Him equal with God, of the same essence as God. We may be used to this concept, but to them, Yeshua could only be a false prophet in their minds. How could a man be equal with God? What were they to do when He said things like, "You are from below, I am from above; you are of this world, I am not of this world" (John 8:23), yet He had such favor with so many people. Yet others sought to stone Him to death for words like these. Torah speaks clearly about what Israel was to do with a false prophet: "If a prophet or a dreamer of dreams arises among you and gives you a sign or a wonder…That prophet or that dreamer of dreams shall be put to death, because he has counseled rebellion against the LORD your God…to seduce you from the way in which the LORD your God commanded you to walk. So you shall purge the evil from among you….You shall not yield to him or listen to him…. But you shall surely kill him…. So you shall stone him to death because he has sought to seduce you from the LORD your God who brought you out from the land of Egypt" (Deut. 13:1-10). It was the Romans who came up with the agony of crucifixion.
On one occasion, He had just said "I and the Father are one" (John 10:31). Their response was to pick up stones to stone Him again. "Jesus answered them, "I showed you many good works from the Father; for which of them are you stoning Me? The Jewish leaders answered Him, 'We are not stoning you concerning good works but concerning blasphemy because You are a man although You are making yourself God" (John 10:32, 33 Power New Testament) Yeshua responded "Do you say of Him, whom the Father sanctified and sent into the world, 'You are blaspheming,' because I said, ' I am the Son of God'? (:36) Yep, that was the issue. Their paradigm of God would make Him saying He was God's Son entirely blasphemous and against the first Commandment: "You shall have no other gods before Me" (Exodus 20:3). Only He wasn't trying to lead them to another God – He is God!! Admittedly, that could be a very hard thing to swallow initially. God becoming a man? How can a Spirit become a person? You can understand the theological dilemma He presented.
"[B]oth the fatherhood of God and the sonship of Yeshua is condemned by the Qur'ran."
For the Muslims there are two issues involved. The first is how could God who is Spirit have a wife? And the second which is detestable to them is the idea that God would have had to copulate with a woman in order to have a son. God is so holy that this thought is entirely reprehensible to them. Therefore both the fatherhood of God and the sonship of Yeshua is condemned by the Qur'an.
Both Jews and Muslims believe that the Torah and Qur'an respectively are the eternal words of God, expressed by God and given to His prophets, in the first case Moses and in the second Muhammad. As both Jews and Muslims accept the Torah as holy writings, they both accept the stories of Adam, Noah, Abraham, Joseph, Moses and David, including his Psalms as being from God. The one difference in their belief about Abraham is that Abraham was willing to sacrifice Ishmael rather than Isaac in Genesis 22, Ishmael being the forefather of the Arab peoples. One of the paramount differences between the Jews and the Muslims is that the Muslims accept the writings about Yeshua as also being from God which the Jews do not. Only Muslims do not believe He is more than a prophet of God. They believe Jesus like Adam was created pure, Jesus being the second Adam, having been made by God as pure, but reject entirely the idea of Him being the Son of God or divine. Both the Qur'an and the Gospels, which of course are Jewish writings, written by Jews to Jews (the one exception being Luke who was considered a proselyte to Judaism) present Yeshua as having a most unique conception and birth. But the Bible never speaks about God having a wife and then a son in the way the Qur'an assumes Christians believe. There are Muslims who have come to faith in Yeshua upon realizing that since God could speak and create the world, God could manifest His eternal word in the creation of a Person and so they are able to accept the divine nature and sonship of Yeshua.
While practicing Muslims claim to believe what they call the Injil, (the Gospels), they cannot have actually read them or they would find this account: "Gabriel was sent from God to a city in Galilee called Nazareth, to a virgin engaged to a man whose name was Joseph, of the descendants of David; and the virgin's name was Mary. And coming in, he said to her, "Greetings, favored one. The Lord is with you." But she was very perplexed at this statement, and kept pondering what kind of salutation this was. The angel said to her, "Do not be afraid, Mary; for you have found favor with God. "And behold, you will conceive in your womb and bear a son, and you shall name Him Yeshua. He will be great and will be called the Son of the Most High; and the Lord God will give Him the throne of His father David; and He will reign over the house of Jacob forever, and His kingdom will have no end." Mary said to the angel, "How can this be, since I am a virgin?" The angel answered and said to her, "The Holy Spirit will come upon you, and the power of the Most High will overshadow you; and for that reason the holy Child shall be called the Son of God" (Luke 1:26-35).
There is no questioning that the Gospels present Yeshua as being the Son of God through Miriam (Mary) by the Holy Spirit. It may mention "His father David" but that just means He would be a descendent of David. It is clear that God would be the Father of this Child. But do the Hebrew prophets have anything to say about a Son of God being born as a person – and through a virgin? Isaiah foresaw it happening: "The Lord Himself will give you a sign: Behold, a virgin will be with child and bear a son, and she will call His name Immanuel" (Isaiah 7:14). Many rabbis, including (I have been told) the much revered rabbi, philosopher and Torah scholar Maimonides (1137-1204) have taken the word "alma" in Hebrew to mean "young maiden" and not "virgin" but what kind of sign would it be for a young woman to have a child? It would be no sign at all, but because this points irrefutably to Yeshua, it was discounted by the rabbis as meaning a virgin. The name of Immanuel means God is with us (the "el" meaning God). This virgin mother would evidently know that this child would be God being with us.
"Each time you say it [Yeshua], it is a confirmation of the redemption God is accomplishing through His Son!"
But what about Joseph to whom she is betrothed? Being betrothed is almost equal to having entered into the marriage covenant except that it hasn't been consummated yet. How is Joseph going to take this news. Not well to begin with. But God intervenes. The same Gabriel who came to Miriam came to Joseph: "Behold, an angel of the Lord appeared to him in a dream, saying, "Joseph, son of David, do not be afraid to take Mary as your wife; for the Child who has been conceived in her is of the Holy Spirit. She will bear a Son; and you shall call His name Jesus, for He will save His people from their sins." (Matthew 1:20-21) When Yeshua was eight days old Miriam and Joseph had him circumcised according to the covenant commandment: "And every male among you who is eight days old shall be circumcised throughout your generations" (Genesis 17:12). It was then He was named: "His name was then called Yeshua (not Jesus), the name given by the angel before He was conceived in the womb" (Luke 2:21). Note that His name, Yeshua, means in Hebrew "Yah is salvation." So this would make what Gabriel said to name Him make sense: Call Him "Yah is salvation" because He will save His people from their sins. The name Jesus has no meaning in that sense. But addressing Him as Yeshua has great meaning. Each time you say it, it is a confirmation of the redemption God is accomplishing through His Son!
Isaiah gave us an interesting insight into Yeshua in the next verse after prophesying the sign of a virgin giving birth: "He will eat curds and honey at the time He knows enough to refuse evil and choose good" (:15). He says at the time He is still eating baby food, He will have enough wisdom to be aware of what is good and what is evil and make the righteous choice. No wonder as He continued to grow up, "Yeshua kept increasing in wisdom and stature, and in favor with God and men" (Luke 2:52). We can see in this verse that not having a human father, since the lineage always comes through the fathers, He does not have the sin nature that all humans have had since Adam sinned and He is therefore able to discern truth, and good from evil. He is not likely to have identified any given situation that way as a child, but His sinless nature enabled Him to make righteous choices. This, incidentally, is one of the many places in the Old Testament where we find prophetic references to Yeshua that give us insight into Him as a Person, and into His relationship with His Father.
Now that we have established that Yeshua would be born of a virgin, do the Scriptures have anything to say about where the Messiah would be born? Yeshua grew up in Nazareth, you may remember. Let's peek into an early exchange between two residents of that town when Yeshua was first on the scene: "Philip found Nathanael and said to him, 'We have found Him of whom Moses in the Law and also the Prophets wrote – Yeshua of Nazareth, the son of Joseph.' Nathanael said to him, "Can any good thing come out of Nazareth?" Philip said to him, "Come and see." (John 1:45,46) What Nathanael is asking here isn't some sarcastic jab at the town, he's asking if anything as good as Messiah is prophesied to come forth from Nazareth. He knows of no Scripture stating that. He's right. Yeshua wasn't born in Nazareth. He was born in Bethlehem.
It's amazing to me to what extent God went to in order that Yeshua would be born in Bethlehem according to the prophetic Scriptures. It states above in John 1:45 that Yeshua was the son of Joseph, even though Joseph wasn't Yeshua's biological father. But legally Joseph was His father because he was Miriam's husband. Now, just about this time, Caesar, who had no inkling that God was planning to have His Son born at the designated and prophesied place, decides to have a census taken at just such time as when Miriam would go into labor while there with Joseph. Here's what happened: "Now in those days a decree went out from Caesar Augustus, that a census be taken of all the inhabited earth…. And everyone was on his way to register for the census, each to his own city" ( Luke 2: 1,2). So Joseph and Miriam are there in Bethlehem when she just happens to be about to deliver the baby. Who do you think put that in Caesar's head? Who could arrange this sequence of events to fulfill this prophesy but God? Our Sovereign God.
Just what does the Old Testament have to say about this child who is born in Bethlehem? The prophet Micah spoke for God when he said: "But as for you, Bethlehem Ephrathah, too little to be among the clans of Judah, from you One will go forth for Me to be ruler in Israel. His goings forth are from long ago, from the days of eternity. Therefore He will give them up until the time when she who is in labor has borne a child…. He will arise and shepherd His flock in the strength of the LORD, in the majesty of the name of the LORD His God and they will remain, because at that time He will be great to the ends of the earth. This One will be our peace" (Micah 5:2-5a).
Who could be "from eternity" but God? And where was He coming forth from? Bethlehem; little Bethlehem. That it states that Bethlehem is in the territory of Judah substantiates that Yeshua was of the tribe of Judah from which the Messiah would come. The words, "He will give them up until…" this child is born indicate there will be a time when Israel will not hear from God until the time when this One would be born. It was 400 years, the same amount of time Israel was in Egypt, between the time of Israel's last prophet, Malachi, until Yeshua was born. This baby would become One who would shepherd His flock in the strength of the Lord. So when Yeshua, mentioning it twice, says, "I am the good shepherd; the good shepherd lays down His life for the sheep…. I am the good shepherd, and I know My own and My own know Me" (John 10:11, 14), He is specifically making reference to Micah's prophesy to let them know He is the fulfillment of that prophesy. He has come to "shepherd His flock in the strength of the Lord."
"He [Yeshua] is the only One who has become our peace."
Further, there are over one hundred references to peace related to Yeshua, which also link Him to Micah's prophesy. He is the only One who has become our peace. Who else but God could say, "Peace I leave with you; My peace I give to you; not as the world gives do I give to you Do not let your heart be troubled, nor let it be fearful" (John 14:27). Could any human being, knowing He was heading for a tortuous death – also in fulfillment of prophesies incidentally that He be the "Passover Lamb of God" who would die at the exact time the lambs would be slaughtered for the Passover offering – be able to make a promise of leaving His peace upon the people, let alone to extend this peace to everyone who would ever read His words and believe them? What are the odds of it actually taking place?
When Yeshua was a few weeks old, Miriam and Joseph then took Him to the Temple in Jerusalem. "And when the days for their purification according to the law of Moses were completed, they brought Him up to Jerusalem to present Him to the Lord" (Luke 2:22). Remember, Micah had said, "He (meaning God) will give them up until the time when she who is in labor has borne a child." Now that the child is born the first prophetic words in four hundred years were uttered:
"And there was a man in Jerusalem whose name was Simeon; and this man was righteous and devout, looking for the consolation of Israel; and the Holy Spirit was upon him. And it had been revealed to him by the Holy Spirit that he would not see death before he had seen the Lord's Messiah. And he came in the Spirit into the temple; and when the parents brought in the child Jesus, to carry out for Him the custom of the Torah (Law), then he took Him into his arms, and blessed God, and said, "Now Lord, You are releasing Your bond-servant to depart in peace, according to Your word, for my eyes have seen Your salvation" (Luke 2:29-31).
It is this salvation which the eyes of many in Israel saw and believed in. We who are believers today are spiritual descendents of those people. It is this salvation which millions since have had spiritual eyes to see, who came to believe in the Son of God in whom "we have peace with God through faith" (Romans 5:1). "And there is salvation in no one else; for there is no other name under heaven that has been given among men by which we must be saved," (Acts 4:12), the Son of God, Yeshua! May there be millions more, Jews and Muslims and all peoples who will come to know Him. Amen.
Reprint of this article is permitted as long as you use the following; Use by permission by Messianic Vision, www.sidroth.org, 2010.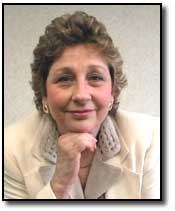 Scripture quotations are from the New American Standard Bible Copyright ©1960, 1962, 1963, 1968, 1971, 1973, 1975, 1977, 1995 by The Lockman Foundation, La Habra, Calif. All rights reserved. Used by permission.
---