Cleaning Out the Secret Places of Our Lives
by Sue Towne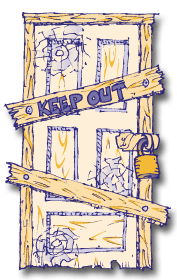 This month (September 2004) on the 24th at sundown begins Yom Kippur, the Day of Atonement. In Temple times, two male goats were used to make this atonement for the people of Israel. One goat bore the sins of the people to the wilderness, and the other was killed so that its blood could be sprinkled in the Most Holy Place.
Of this the Lord spoke to Moses (Lev. 16:30), saying, "For on that day the priest shall make atonement for you, to cleanse you, that you may be clean from all your sins before the Lord."
As I am writing this, I find myself at the end of a remarkable day. I spent most of today and yesterday cleaning out a "house of squalor." Until recently, the sole inhabitant of this house was a fairly wealthy man who had compulsively purchased expensive hobby items he never used, while throwing mail and garbage and clothing and other things all over the floors of his townhouse. As far as I could tell, it had never been cleaned for at least the last ten years. The house was absolutely filthy. The man died without any close family.
I was there picking through the mail and personal effects of this man because the law firm I work for represents his estate. We had hired a "clean out" crew to come in and haul away the debris and most of the personal effects in the house. But it was my job to supervise the crew and pick through the piles of stuff to see if any of it was valuable or helpful in finding more assets for the heir.
This was a gross and even revolting job in many respects. In addition to having to deal with bugs and stench and dirt and clutter, we found items from this man's life that showed his hidden, inner "squalor" as well. Neither neighbors nor family knew some of the tormenting secrets of this man's life. But we, who had never known him in this life, were now discovering the evidence of it—and having to dispose of it, hauling it away.
As I left the house this afternoon, I felt good that the job was done. Then suddenly something hit my heart, and great tears began rolling down my cheeks.
What I saw in a flash is that our dear Yeshua, the Lamb of God, had done this very thing for each of us when He went to the cross for us. He bore our sins—yes, we all know that. But do we realize what "garbage" this was for Him? He bore every secret evil thing we would do or say or think about. It was as though he cleaned out the refuse of our lives from our eternal hiding places—from the attic to the basement and every closed closet. For the Holy One of Israel, this was more "gross" than cleaning any house of squalor could ever be for any of us.
As I began to worship Him in my car, the tears kept coming and coming. I thought of the movie "The Passion of the Christ," and I was overcome with love and praise for Him. I began to thank Him that I was able to spend these past two days helping to clean out that house, just because it had connected me with His heart for us as He released His blood for all time in a cleansing tide.
Truly the two goats of Yom Kippur represent the redemptive ministry of the Lamb of God, who bore our spiritual refuse—our garbage—and cleansed us of all unrighteousness. This is the very heart of what it means to be an intercessor. The greatest intercession of all time took place on that cross. Let us join our hearts to His in this eternal ministry before the Father.
Scripture marked NKJV taken from the New King James Version. Copyright ©1979, 1980, 1982 by Thomas Nelson, Inc. Used by permission. All rights reserved. Emphasis added.
---