The Waves of Healing Glory (Digital Download) by Becky Dvorak; Code: 9795D
The Waves of Healing Glory (Digital Download) by Becky Dvorak; Code: 9795D
Six awesome tsunamis of God!
It was January of 2012 that God showed Becky Dvorak His plans for the Great End Time Moves of His Power. She says God's finest hour is about to be our finest hour!
In The Waves of Healing Glory, Becky explains the one sure way to access what God is about to do—your relationship and personal time with Jesus. But run to it. Get wet! And Becky helps you: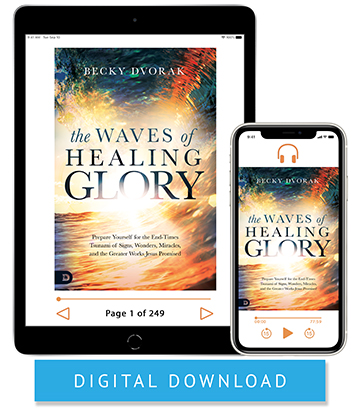 • Recognize these 6 Waves of God
• Take hold of God's miraculous moves
• Get free of all anxiety about end-times
• Overcome opposing counter-waves
Will we see labor pains? Yes. So Becky shows how to move right through God's season of change. Becky's 3-part audio series helps you:
• Protect yourself from deception
• Thrive during God's finest hour
Becky says you can expect change, and you can expect God to lead you every step of the way. Includes Becky's prayer of declaration.
Becky Dvorak is a prophetic healing evangelist who conducts healing services, seminars, and conferences globally. She and her husband David have been full-time missionaries since 1994, in Guatemala and Central America. They are founders of Healing and Miracles International and Vida Ilimitada.
---