The Supernatural Bible (Large Print Edition) & It's Supernatural; Code: 9699
The Supernatural Bible (Large Print Edition) & It's Supernatural; Code: 9699
We apologize for the inconvenience, but the item is currently unavailable. Please check again at a later time.
The Bible Just Got More Supernatural! 
Now, for a limited time, it also comes with a paperback version of It's Supernatural!, jam-packed with the best wisdom gleaned from Sid's years of interviewing the Generals of the faith. PLUS our popular Yeshua bookmark. Yes, they come with Sid's personal recommendation and only with this offer!
About the Bible—For the first time in 30 years, the King James Version has been updated for the 21st Century. This outstanding and faithful Modern English Version (MEV) is the basis of the newly released Large Print Edition of The Supernatural Bible.
• The first sections of The Supernatural Bible contain 78 pages of resources
• Includes original Hebrew words and names such as Yeshua (Jesus), Miriam (Mary) and shofar (trumpet).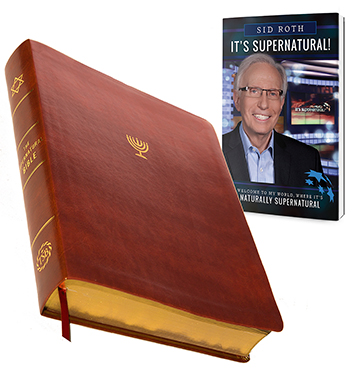 • Chain-referenced commentaries by Dr. Sandra Kennedy and Dr. Michael Brown appear throughout the Bible next to the highlighted passages on healing and Messianic prophecies (both have added more commentaries). In this new edition we have added commentaries by Sid Roth on the baptism in the Holy Spirit and by Dr. Keith Ellis on the Glory.
The Supernatural Bible is 9.5″ long by 7.25″ wide. It is 1.4″ thick with a 14 point font size.
The 78 pages from the first sections include a treasury of the best teaching on the supernatural and Israel AND Sid's favorite Scriptures for meditation AND Sid's articles of personal mentoring and motivation—plus a special Yeshua bookmark!
Go here to get two copies of The Supernatural Bible at a special price.

Would you prefer our Regular Print Edition of The Supernatural Bible? Please go here to order.

---