Speak Into Your Own Life & The Power of Forgiveness (Book & 3-CD/Set) by Margaret Green; Code: 9950
Speak Into Your Own Life & The Power of Forgiveness (Book & 3-CD/Set) by Margaret Green; Code: 9950
Experience Transformation with Margaret Green's 30-Day Devotional and 3-CD Set!
Are you facing challenges in your life, be it emotional, physical, or spiritual? Do past hurts and unforgiveness weigh you down? Margaret Green's transformative book, Speak into Your Own Life, and 3-CD set, The Power of Forgiveness, are here to guide you towards healing and freedom.
Speak into Your Own Life
Embark on a 30-day journey of self-discovery and empowerment with Margaret Green. This devotional is more than just words on a page – it's a testament to the life-changing power of God's Word. Margaret's own healing journey, which transformed her from a life of abuse, despair, and identity struggles, has been poured into these pages for your benefit.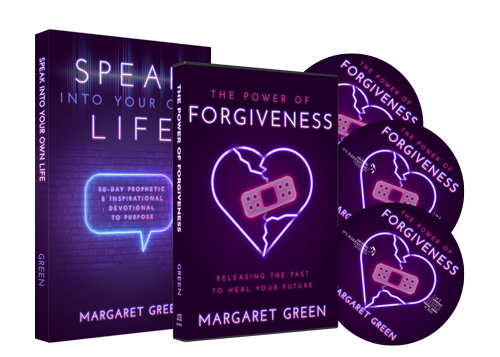 As you immerse yourself in this devotional, you'll discover that words have immeasurable power. By confessing the Word of God and speaking life, you can overcome negative influences and embrace the life you were uniquely created for. The impact of this devotional goes beyond inspiration; it has even played a part in miraculous healings.
Let Margaret Green's words guide you towards your destiny. Break free from despair, grief, and heaviness. Embrace a future filled with purpose and transformation. Your life is waiting to be rewritten – start your journey today!
The Power of Forgiveness
Drawing from biblical wisdom and her personal journey of triumph over adversity, Margaret shares her insights on healing from life-threatening illnesses through forgiveness. Discover how to:
– Recognize the manifestations of unforgiveness.
– Break free from the hindrances it poses to God's work in your life.
– Overcome the detrimental effects of holding onto past pain.
– Tap into the transformative power of forgiveness.
– Embrace a future filled with purpose and fulfillment.
Each CD includes prophetic prayers and activations that will guide you toward your path of forgiveness and healing. You are not defined by your trials, and a second wind of restoration is waiting for you.
---