Releasing Miracles & Heaven's Blueprint (Book & 3-CD/Audio Series) by Dr. Kynan Bridges; Code: 9833
Releasing Miracles & Heaven's Blueprint (Book & 3-CD/Audio Series) by Dr. Kynan Bridges; Code: 9833
Kynan Bridges says when your expectations are based on the world around you…
The question becomes will you settle for less, or never settle? For Kynan, our God is a consuming fire. A jealous God Who did not settle for a fallen world.
Instead, Father God sent Jesus and "publicly endorsed him by doing powerful miracles, wonders and signs through him." Acts 2:22 (NLT)
Kynan says pocket-sized expectations are not the measure of your inheritance, and today miracles still settle the question of God's approval. In Kynan's latest book, Releasing Miracles, he gives practical steps to ignite your life with God-sized expectations. After the pattern of Jesus' life, Kynan establishes four pillars for Heaven's miracles—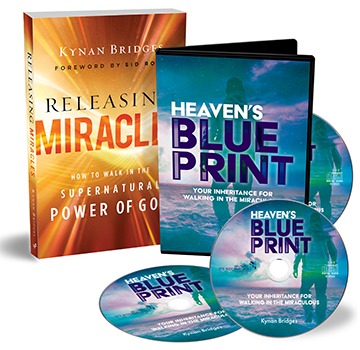 • Active faith
• Godly compassion
* Walking in humility
• Personal worship
Kynan says you were born for miracles, and they are not beyond you! His 3-CD/audio series, Heaven's Blueprint, reveals every believer's Kingdom empowerment:
• The right to operate in the miraculous
• The power of compassion
• Kingdom truth – miracles are simple
• Authority to maintain your miracles
It starts with a decision: "I can do this."
Dr. Kynan Bridges is a pastor and gifted teacher with a passion for seeing God's people walk in the fullness of divine health and provision according to the Word of God. He is senior pastor of Grace & Peace Global Fellowship in Tampa, Florida. Kynan has appeared on numerous media outlets, including Daystar, FaithTV, CTN, Cornerstone and TCT.
---