Journeys of Choice & Destination: Freedom! (Digital Download) by Donna Grisham; Code: 9791D
Journeys of Choice & Destination: Freedom! (Digital Download) by Donna Grisham; Code: 9791D
The Journey of Unwanted Pregnancy
At 16 years old, Donna Grisham was violated, broken and pregnant. Abortion soon became the way out. But it also became an open door for unexpected hopelessness and new fears.
Pushed by uncertainties, Donna felt she had no other choice. The darkest time of her life followed, and so did God.
He wasn't finished! As Donna cried out, an encounter with her Great Redeemer eventually led her to help others. In Journeys of Choice, Donna shares her story and powerful testimonies from others, including those of:
• Abby Johnson (Unplanned)
• Jeri Hill (widow of evangelist Steve Hill)
• Jessi Green (Saturate OC)
Donna learned that the choice to end a life is not the end of the story. There is hope because with God, crisis and trauma are not the final word.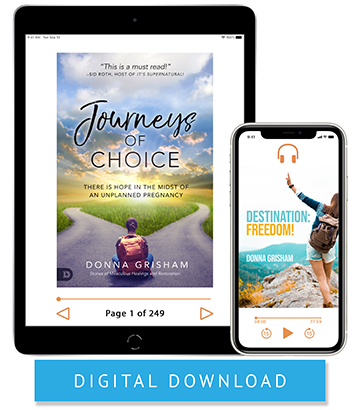 The simple truth is that God does not abandon you. In her 2-part audio series, Destination: Freedom!, Donna shares from her own journey of grace and forgiveness. She begins the healing process by:
• Ministering to deep hurts
• Releasing supernatural freedom
• Speaking God's purpose and plans for you
• Praying: FOR you and OVER you
Donna reminds you that it is your journey but you are not alone!
Donna Grisham is a passionate and enthusiastic advocate for the unborn and for women of every walk of life who face unexpected pregnancies.
---