How to Hear from God and Flow in the Prophetic & God's War Chest (Digital Download) by Myles Kilby; Code: 9759D
How to Hear from God and Flow in the Prophetic & God's War Chest (Digital Download) by Myles Kilby; Code: 9759D
For He gives the Spirit without measure…so you can hear, see and grow!!
At Pentecost, God poured out His Spirit to make a statement. He also opened the prophetic realm to all believers—His sons and daughters. This same pouring out is manifest today in the prophetic. So what is prophecy, how does it work, and is it meant for you?
In this exclusive 4-part audio series, How to Hear from God and Flow in the Prophetic, Myles Kilby walks you through his masterclass on the prophetic, its operations and facets, including: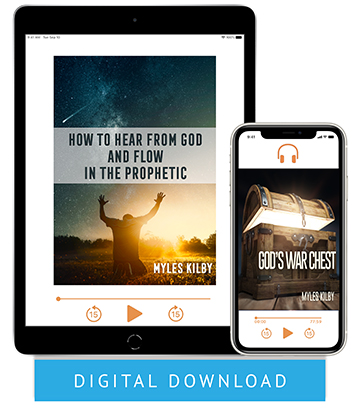 • The function and purpose of prophecy
• Three levels and five dimensions of the prophetic
• Two primary ways to receive revelation from God
• The seven manifestations of the Holy Spirit
• How to activate your spiritual eyesight
• Six strategies for developing this gift
Myles' series includes multiple prayers of activation and impartation. If you want to grow, the time to move is now!
Myles says God has resources to help you, too. In Myles' special audio teaching, God's War Chest, Myles shares his understanding of what God's war chest is, how to access it and how to use it to fulfill God's call on your life. The wealth of heaven is available for God's purposes!
Myles Kilby began his ministry in evangelistic outreaches and conferences. His prophetic calling began at the age of 20. He now ministers under Kingdom Life Ministries, Savannah GA, where he lives with his wife Nathalie and four children.
---