Empowered for Victory (Digital Download) by Matt Cruz; Code: 3774D
Empowered for Victory (Digital Download) by Matt Cruz; Code: 3774D
Somewhere beyond your comfort zone…
Matt Cruz says Jesus is calling you to a place beyond your comfort zone, but familiar nonetheless.
Empowered for Victory, Matt's 5-part audio series, points to what God has already told us about the season of Jesus' return. Your bridegroom is coming for His glorious bride, boots and all!
Matt says it's time to ask questions about that because you have a destiny NOW, not 2,000 years ago. And you can prepare once you say yes to your place as THE glorious bride. Matt helps you order your first steps by: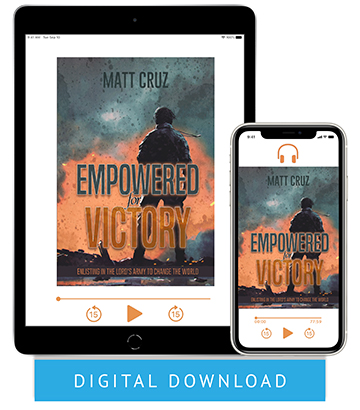 • Praying with new focus in the Spirit
• Receiving fresh infillings of the Holy Spirit
• Getting direction through encounters with God
Like Matt, you have been chosen for what God is doing in our day—when we will see a move of God's spirit that overtakes whole cities.
Matt says when you agree with the heart of God, He takes care of the rest. Your job is to shine!
Matt Cruz never realized the fullness of God's power until an encounter with the Holy Spirit in his basement at the age of nineteen, when he started seeing miraculous signs and wonders. Today, his testimony videos have reached over 200 million people.
---