Eat, Sleep, Prophesy, Repeat & Living Prophetically (Digital Download) by Tomi Arayomi; Code: 9797D
Eat, Sleep, Prophesy, Repeat & Living Prophetically (Digital Download) by Tomi Arayomi; Code: 9797D
Hearing God's voice made simple. – Tomi Arayomi
Eat, Sleep, Prophesy, Repeat is a guide for believers who want to grow in hearing the voice of God. Established voice and author Tomi Arayomi shares personal revelations and stories of his journey—and how he was schooled in just what the Lord was saying to him.
The prophetic is for everyone, and the Bible says it plainly in John 10:27, "My sheep hear my voice." This book promises Tomi's practical insights, and it answers questions every sincere believer will come to ask: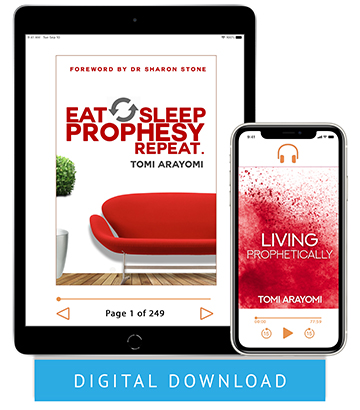 • How do I separate God's voice from my voice?
• How do I minister to others?
• How do I mature in this anointing?
• How do I restore the prophetic in my church?
Tomi Arayomi has been called on by heads of state, monarchs and queens for his apostolic and prophetic anointing. He says we must learn to live prophetically because that is how God gets things done. 
God wants good communication with every believer, and in Tomi's 3-part audio series, Living Prophetically, he will share with you:
• How prophets pray
• How to discern God's voice and the presence of the Holy Spirit
• How to wage good warfare
• How to seek the Lord and know you'll find Him
Tomi says leave the agenda to God! He will direct you.
Tomi Arayomi was commissioned under Christian International by Dr Bill Hamon and Dr. Sharon Stone. Tomi has had favor with government leaders worldwide, and also with the United Nations, where he is a frequent guest.
---