And David Perceived He Was King Package (Digital Download) by Dale Mast; Code: 9812D
And David Perceived He Was King Package (Digital Download) by Dale Mast; Code: 9812D
David's journey is a pattern for your journey.
God took David from the fields where he followed the sheep to become the ruler of Israel. He was overlooked by his father, yet chosen by God. He carried a dream from the day Samuel anointed him, but felt unworthy to marry the king's daughter.
He was the hero of Israel and then a hunted villain. When made king in Judah, civil war erupted.

Dale Mast says as God was establishing David's identity, the enemy was trying to steal it. Taking down Goliath had required faith, but taking the throne required identity.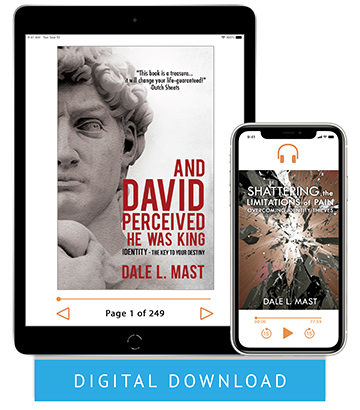 The difference, Dale says, is faith believes what God can do. Identity believes what God can do through you. David's journey is a pattern for yours.

Dale's 2-part audio series, Shattering the Limitations of Pain: Overcoming Identity Thieves, is your action plan to break through satan's 4 roadblocks to standing in your true identity and destiny. Take the first steps now.
This offer includes Dale's Destiny Tracking System.

Dale Mast is an apostolic and prophetic minister known for both teaching and accurate prophetic words to nations. Dale and his wife, LuAnne, are senior pastors of Destiny Christian Church in Dover, Delaware.
---