Activating God's New Assignments for You (Digital Download) by Cindy McGill; Code: 3775D
Activating God's New Assignments for You (Digital Download) by Cindy McGill; Code: 3775D
If God could break your hardened heart…
Cindy McGill says you really can do the unlikely. While it might start in your living room or wherever you pray, you will surely find your supernatural God in unexpected places. Waiting for whosoever. 
God isn't fazed by woke "cancel culture" or a hardened generation. God is love, and you are His hands and feet. The most supernatural thing you will ever do is inseparable from God's love. Love and rejection don't mix!
In her 5-part audio series, Activating God's New Assignments, Cindy McGill will give you new eyes and a new language. It won't really resemble Bible-speak or pulpit vocabulary, but it will represent God in Person and in Love.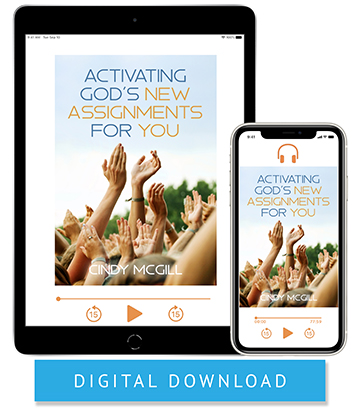 Cindy's plan is laser-sharp: share truth with others in language they can receive. It's as down to earth as God will ever be.
The new thing God is doing these days is in you. From there, God will move through our broken culture in ways that will change people. You are God's new assignment. He won't leave you empty-handed, and He has already taken the first step!
Cindy McGill has interpreted thousands of dreams at events in the U.S. and abroad, including the Olympics, the Sundance Film Festival, Burning Man in the Black Rock Desert of Nevada and other expos and festivals. She uses dream interpretation to share the truth of Jesus. She and her husband, Tim, reside in Fort Worth, Texas.
---