You're Not Done (4-CD/Audio Series & Activation Prayer Card) by Mark Wallace; Code: 9823
Sale!
You're Not Done (4-CD/Audio Series & Activation Prayer Card) by Mark Wallace; Code: 9823
When God steps in…
Mark Wallace's new teaching series, You're Not Done, celebrates the power of crying out to God, especially when it means fulfilling His purposes for you. And if you require a miracle, good!
Mark goes straight to the story of Joseph and his dreams of 4,000 years ago because they relate to your life. Like Joseph you have kingdom purpose knit into your identity. God put it in you.
Joseph was nearly 40 before he finally recognized his purpose.
Even though Joseph's youthful dreams almost cost him his life, understanding finally came and it established provision and destiny for Jacob's entire family for 400 years!
Your dreams are a language of the Spirit that speaks to what God sees coming for you.
When Mark Wallace faced his own life-threatening situation, he cried out, "Help, God!" Like Joseph, Mark felt forgotten in prison. His desperation marked the release of his prophetic purpose, confirmed by a vision he'd had long ago.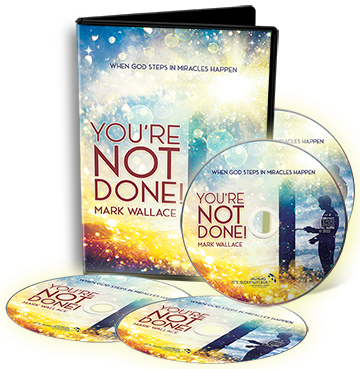 What Mark calls the "Joseph principle" will help you find the timing of your miracle—you are not done yet! Following Joseph's example Mark helps you learn:
•  How to discover your God plan
•  How to step into the dream God sees for you
•  How to release the timing of your own miracles
•  How to break the power of fear to release healing
Mark's 4-CD/audio series also includes his powerful activation card, You're Not Done! Because you're not.
Mark and Tammy Wallace are senior pastors of Living Word Fellowship, a thriving congregation located in the Central Valley of California. Mark's passion for revival and dynamic preaching also keep him active at conferences and revival meetings across the U.S.
---