Worship Without Limits (Digital Download) by Philip Renner; Code: 3795D
Worship Without Limits (Digital Download) by Philip Renner; Code: 3795D
Worship is a priceless gift.
Worship is a priceless gift that remains unopened for many believers. It was never meant to be christianized entertainment, a ritual or the demonstration of zeal.
Out of his experiences on the Russian mission field, Phil Renner gleaned a treasury of worship testimony, biblical truth and personal application. His prayers of activation will give you open access to God's Presence and the place of His essential goodness through worship.
Worship Without Limits equips you to: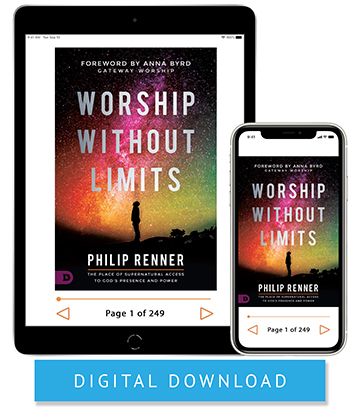 • Change atmospheres
• Cultivate humility
• Understand how to bring unity
• Lead others into God's presence
• Take the limits off of your encounters
True worship unlocks the power of your right relationship with God!
Philip Renner is a missionary, author, worship leader, revivalist and songwriter. He serves as worship leader at Millennial Church, Tulsa, OK, and his media appearances include CCM Magazine, TBN Praise, Lesea TV Harvest Show, Worship With Andy Chrisman, Atlanta Live TV, Tulsa World, Cross Rhythms UK, TBN UK and Premier Radio UK.
---