Two Copies: The Supernatural Bible (2nd edition) by It's Supernatural; Code: SP9530
Two Copies: The Supernatural Bible (2nd edition) by It's Supernatural; Code: SP9530
You will love reading The Supernatural Bible! —Sid
For the first time in 30 years, the King James Version has been updated for the 21st Century. This outstanding and faithful Modern English Version (MEV) is the basis of the second edition of The Supernatural Bible.
• The first sections of The Supernatural Bible contain 95 pages of resources 
• Includes original Hebrew words and names such as Yeshua (Jesus), Miriam (Mary) and shofar (trumpet).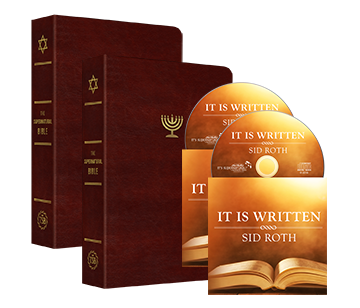 • Chain-referenced commentaries by Dr. Sandra Kennedy and Dr. Michael Brown appear throughout the Bible next to the highlighted passages on healing and Messianic prophecies (both have added more commentaries). Plus we have added commentaries by Sid Roth on the baptism in the Holy Spirit and by Dr. Keith Ellis on the Glory.
The Supernatural Bible is 8.5″ long by 5.5″ wide. It is 2″ thick with a 12 point font size.
The 95 pages from the first sections include a treasury of the best teaching on the supernatural and Israel AND Sid's favorite Scriptures for meditation AND Sid's articles of personal mentoring and motivation!
With this special offer, You will also receive the CD, It is Written. 
---