Third Heaven Authority (Digital Download) by Mike Thompson; Code: 3788D
Third Heaven Authority (Digital Download) by Mike Thompson; Code: 3788D
Your Third Heaven Authority in Jesus.
What does it really mean to be a new creation seated with Jesus in Heaven's throne room? Mike Thompson says it means possessing your full inheritance as sons and daughters of the Most High God.
In his 4-part audio series, Third Heaven Authority, Mike Thompson walks you through the 3 levels of a believer's authority so you can begin to walk in your Third Heaven inheritance! The spoken word of God contains the living power to bring itself to pass IF you are willing to open yourself up and receive instruction.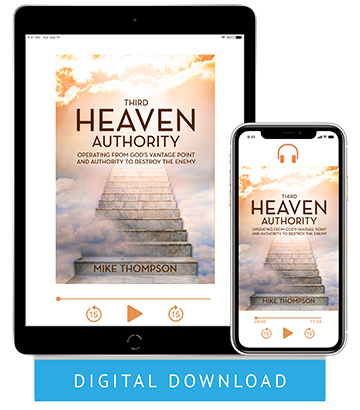 Mike helps you move from spiritual milk to meat. In a practical sense you will learn how to open your mouth to:
•  Pray in obedience
•  Operate in your spiritual authority and power
•  Yield to the Holy Spirit's leading
Mike says most believers allow unseen opponents to initiate troubles, then petition for Heaven's help. But that can change! Understanding how YOUR VOICE and Third Heaven authority works will put you in the driver's seat. Seated with Jesus where you belong!
Mike Thompson is a noted prophet and Bible teacher at Word of Life/ Mike Thompson Ministries in Las Vegas, NV. He has been in full time ministry for over 40 years.
---