The Warrior's Victory (Digital Download only) by Ana Werner; Code: 9668D
The Warrior's Victory (Digital Download only) by Ana Werner; Code: 9668D
Feisty or passive? You choose.
This offer is for the digital versions only. It does not include the physical books or CDs.
Seer Ana Werner doesn't pick spiritual fights, but she's learned how to finish them. It took an unexpected season of schooling, but God showed Ana how to fight and win. Heaven's kind of fight is not what you'd think, and every believer can master it.
Now Ana's latest book, The Warrior's Dance, teaches and imparts what she learned about how to do things God's way, including how to—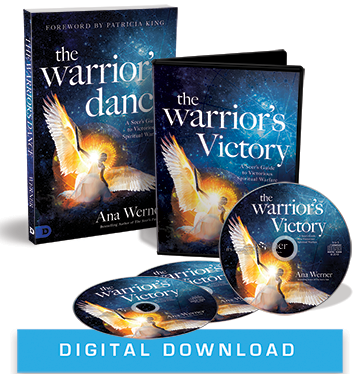 • Partner with Holy Spirit to pull down strongholds
• Recognize signs of demonic activities
• Move in 9 distinct dances of spirit warfare—they don't resemble dancing, or fighting!
Then Ana's 3-CD set, The Warrior's Victory, adds key insights for victory in three messages:
• A Time to Push
• Mind and Soul Be Healed
• Your Weapon of Praise
Every believer will encounter more than one unwanted battle. Ana says you will want Heaven's perspective when trouble comes. Ana gives you a plan for victory, and it is exactly the help you need.
Ana Werner and her husband Sam reside in Missouri with their two children. She is the founder of Eaglets Network and Ana Werner Ministries. Ana travels and equips people internationally on seeing in the Spirit, healing and moving in the prophetic.
---