The Second Coming of the New Age & The New Age Exposed (Book & 3-CD Set) by Steven Bancarz & Josh Peck; Code: 9601
The Second Coming of the New Age & The New Age Exposed (Book & 3-CD Set) by Steven Bancarz & Josh Peck; Code: 9601
Can a homeschooled Christian teen get trapped watching the History Channel?
The New Age movement doesn't shout "Allahu Akbar." Instead it operates under the guise of pop-culture, offering hundreds of mixtures and variations. Choose what you like. Become Christ!
This spirituality is outright demonic philosophy. But it has found its way into America's living rooms.
At their peril, former New-Agers Steven Bancarz and Josh Peck found out these subtle influences are moving among us. In their new book, The Second Coming of the New Age, they expose the very near dangers, revealing: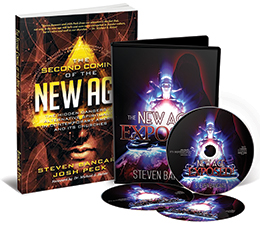 • How evangelical churches have been swayed
• Red flag influences and false-Christ, false-gospel doctrines
• Leviathan as the underlying deity of the New Age
• How science is distorted to promote New Age beliefs
• Roots in fallen angels, extraterrestrials, the Nephilim and satanism
For Steven Bancarz, it led to unwanted out of body experiences and face to face encounters with the demonic—but he also says we are not powerless. The first step is knowledge and Steven's 3-CD set, The New Age Exposed, can help you. Young and stagnant believers are vulnerable. Who is in charge? Pop culture, or you?
Steven Bancarz was a home schooled Charismatic Christian who became ensnared in the New Age. He started what became one of the largest New Age websites in the world almost overnight. By his early 20s he was wealthy and in deep trouble. Then he had a personal encounter with Jesus.
---