The Final Reformation & Great Awakening (Book & 3-CD/Audio Series) by Dr. Bill Hamon; Code: 9773
The Final Reformation & Great Awakening (Book & 3-CD/Audio Series) by Dr. Bill Hamon; Code: 9773
"This is a 'must-read' for anyone who wants to understand how Jesus gathers us to rule in the season to come." —Chuck D. Pierce
Veteran prophetic leader Dr. Bill Hamon says the world has entered a new era—the last of the Last Days. What is our role in this final season? The answers are found in his book, The Final Reformation and Great Awakening.
Over a lifetime of prophetic searching, Dr. Hamon has received ongoing revelation on God's purposes for His Bride, the Body of Believers. In Bill's new book he shares his insights on many longstanding questions regarding the Last Days. He helps you: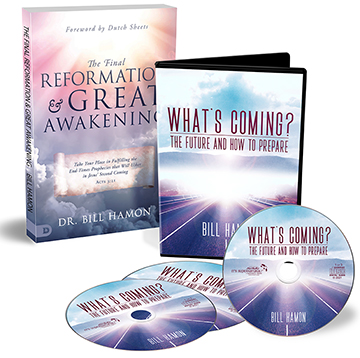 • Find your place in the final move of God
• Learn how Kingdom rewards come to us
• Discover how historic moves of God connect with NOW
• Learn to demonstrate (and enforce) the Kingdom
• See Kingdom values impact every facet of human society
In Bill's 3-CD/audio series, What's Coming? The Future and How to Prepare, he focuses on how God will bring about the restoration of all things. That means all unfinished prophecy will converge and come to fullness. The age and dominion of Jesus will be established!
Dr. Bill Hamon is the founder of Christian International Ministries. A prophet for over 60 years, he has authored seven major books, specializing in the restoration of the Church and what to expect next on God's agenda.

---